'Injustice 2' esports: There's already a $600K championship for the upcoming release date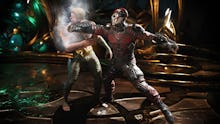 With the upcoming Injustice 2 release comes a few changes, including new characters like Supergirl and Sub-Zero, new character customization with gear you find in the game and, you know, a casual $600,000 championship series. 
Unlike the first game — Injustice: Gods Among Us — the new game is already associated with a large tournament series with partners like PS4, Twitch, ESL Gaming Network and GameStop. 
Injustice 2 esports: Here's what we know about the Championship Series
Beginning May 26, the pro series will start with a four-month open series to determine the top 16 players across all regions — North America, Latin America and Europe. Each smaller program will have its own prize money and players will have the opportunity to claim a spot in the October 2017 finals. According the Injustice 2 website: 
The best players from these different programs will qualify for the Injustice 2 Championship Series grand finals that will take place this fall. 
Each game in the pro series will be livestreamed on Twitch. According to a post on Fenix Bazaar, all U.S.-based players can participate in the GameStop Hometown Heroes even if they're not playing in the Pro Series.
More gaming news, updates, tips and tricks
Check out the latest from Mic, including our deep dive into how female Overwatch players are dealing with online harassment, an article about a fan movement advocating for more same-sex romance options in Mass Effect, a cool making-of video for Legend of Zelda: Breath of the Wild and an article about what a Bechdel test for gaming might look like.