Harlem protesters shame House Speaker Paul Ryan for AHCA as he visits neighborhood school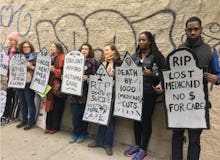 On Tuesday, House Speaker Paul Ryan (R-Wis.) will take a break from leading the charge to kick tens of millions of Americans off their health insurance plans to pay a visit to Success Academy, a charter school in Harlem that shares a building with a public school. He is expected to meet with Eva Moskowitz, the charter school network's CEO, for a tour of the Harlem campus.
But Moskowitz won't be the only one there to greet his arrival: Hundreds of protesters sprung into action Tuesday morning to rally against the Republican leader's visit to the Harlem school — some holding signs listing the treatable illnesses that can potentially prove fatal if those afflicted lose their health care coverage.
Other protesters marched outside the charter school chanting, "My body, my choice! Her body, her choice,"  "Die quick if you get sick," and "Health care for all — not just for Paul."
"The fact that Paul Ryan is coming to NYC to visit a charter school, while ignoring the city's many public schools only underscores what we learned from his deceitful ACA repeal," a representative for Mobilize Podcast, one of the lead groups organizing the protest against Ryan's Harlem visit, said, "Ryan doesn't actually care about real people. He wants to take money from the public to benefit private corporations. He did it with healthcare and now he wants to do it with education. Well, we won't stand for that. There are hundreds of angry New Yorkers out here today to let him and the country know in person what we think of TrumpCare and the rest of Ryan's violent, hateful, and ignorant policies."
"Paul Ryan is fresh off the House passage of his health care plan that would take coverage away from 20 million people," Joe Dinkin, National Communications Director of the Working Families Party, another of at least nine groups organizing the Harlem protests, said on the phone, "He's showing on health care and education that he and President Donald Trump and [Success Academy CEO] Eva Moskowitz and Education Secretary Betsy DeVos believe in a market fundamentalism that creates winners and losers out of our patients and students."
"The outrage! Paul Ryan, killer of health insurance for tens of millions will be in Harlem Tuesday," Refuse Fascism, yet another of the groups protesting Ryan's visit, said in an email blast, "There are too many reasons why he should not be in Harlem without major protest of him and the whole regime." 
When news of Ryan's Harlem visit first broke, City Council Speaker Melissa Mark-Viverito called on New Yorkers to organize and "send a very strong message" rebuking Ryan's recent efforts in the house to eviscerate the Affordable Care Act and replace it with the American Health Care Act, a hotly contested health care bill bipartisan detractors but only GOP support in the House.
"I just got an alert here which is disturbing to me that Speaker Ryan will be in New York City visiting a charter school in Harlem, and I hope we organize ourselves to send a very strong message about what we believe about all that he is doing," Mark-Viverito said on a Monday panel appearance reported on by the Observer.
Mark-Viverito pulled no punches when it came to Success Academy's CEO, who reportedly invited the pro-charter Ryan to visit the school: "We should be denouncing and holding Eva Moskowitz responsible and accountable for bringing him here to our community." A spokesperson for Mark-Viverito's office did not immediately return Mic's request for comment.  
This won't be the first time Moskowitz has invited a high-profile operator in President Donald Trump's orbit to tour Success Academy's Harlem campus. In November, just one day after Moskowitz took her name out of consideration for Trump's secretary of education, the New York Post reported that she led Ivanka Trump on a "personal tour" of the charter school.
Moskowitz told the Post that, though she's a Democrat who voted for Democratic nominee Hillary Clinton in the election and opposed the real estate mogul's rise to the Oval Office, her resistance came to an abrupt halt when she found out about Trump's support for charter schools.
Though faculty and students at the charter school greeted Ivanka Trump warmly, those at P.S. 149 Sojourner Truth school, the public school with which Success Academy shares a campus, did not hide their displeasure over the first daughter's visit.
"Yet another downside of co-location," an employee of Sojourner Truth School told the New York Post, "You're exposed to this."  
May 9, 2017, 12:58 p.m.: This story has been updated.