Porn companies are developing home security tools so you won't get caught with pants down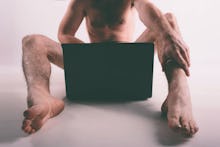 Getting caught with your pants down is embarrassing. Getting caught with your pants down while sporting a clunky virtual reality headset sounds like the prologue to an essay titled "Why I Threw My Devices Into the Sea and Retreated Into the Wilderness."
It's a terrifying enough scenario that for years now, redditors on the /r/Oculus forum have been pleading with porn companies and VR developers for a high-tech solution.
"Somebody, please," a user called FapInVR wrote on the subreddit, worried his girlfriend would walk in on him. "For the love of God and everything that is holy — please create something where I can put a [sensor] near the front door so when it opens I get a pop-up text in my VR game telling me someone is coming." 
He said he'd pay upward of $100 for it. "It will be the single greatest invention of this century, I can guarantee it," he wrote. "Please, please help me."
Porn and VR companies have heard your cries
Corey Price, vice president of PornHub, said in an email that the company is "currently working on a few prototypes to help solve this issue." They couldn't divulge any specific details on what the prototypes might look like, but said that "it is not a decorative 'Do Not Disturb' sign" but rather "something much more technological that will serve as an effective means to alert individuals using VR headsets that there is a visitor fast approaching, providing them with ample time to ... readjust."
"I mean, it must be pretty difficult to keep an eye out for unwarranted individuals while you have a headset strapped to your head and you're in the midst of a climactic scene with the audio blaring," Price said.
CamSoda, a free cam site that also offers virtual reality content, is also looking for a solution.
"We are currently looking into additional technologies that we can provide our fans with so their trepidations remain at bay," Darren Press, vice president of CamSoda, told Mic in an email. "Until another solution is made available, we suggest placing a lock on the door or using a motion sensor that sends alerts when someone is approaching." 
Porn site xHamster is also trying to address the problem of partners, roommates and family interrupting VR sessions. Alex Hawkins, xHamster's VP of Marketing, said in an email that xHamster has created a working prototype of a "specially designed motion sensor that immediately closes your browser windows and turns off the sound the second someone comes into your private space. ... As soon as the device identifies an intruder — boom! — the porn disappears."
"As soon as the device identifies an intruder — boom! — the porn disappears."
The device isn't available yet, though the company said it will raise funds for it on Indiegogo "soon." 
Meanwhile, the community panics
A father of four daughters said on Reddit that he "of course" will lock the door behind him, but that "interior locks are soo easily defeatable."
"I always fear that my girlfriend/roommate has been filming me (without me knowing) and I'm about to go viral," a redditor called Perviking wrote in a post asking whether an intruder alert is a good idea. 
Others discuss potential workarounds. "Don't use headphones," Zaptruder wrote. "Get used to hitting Alt-F4 blind. And wear pants that you can pull up fast."
Many users think the best solution is a Bluetooth sensor at the front door that alerts you when someone comes home.
CamSoda actually offers a similar solution: The company streams your front door or hallway, letting you monitor your home in virtual reality so you can see when someone is coming in. They even sent over the YouTube tutorial below.
There are less expensive solutions
Ela Darling, cofounder of VRTube and VR content manager at Cam4VR, told Mic that a more immediate solution to this issue is your choice in headset. Rather than use an Oculus Rift or HTC Vive, it may be worth sacrificing the highest-quality experience for a device that isn't tethered to a computer. With mobile VR headsets, like the Gear VR or Google Cardboard, users have the mobility to choose a space that might provide more privacy.
"Whether you're wearing a headset or not ... you're in a vulnerable position," Darling said. "This isn't a new problem, it's just a slightly exacerbated problem. I think there are some tried-and-true solutions here that should be examined and employed."
Such as: locking your door, double-checking that you locked your door — for the love of God, lock your door — or putting a digital doorbell outside of your bedroom to let people alert you before they come in. 
"There's old faithful: the trusty old-fashioned gym sock on the door — the universal sign of, 'Don't fucking bother me right now,'" she said. 
When the urgent issue of interrupted masturbation is solved, VR fans may face an even scarier threat: hackers. Redditor RoninNionr envisioned an "evil programmer" who could, theoretically, hijack the positional camera of the Oculus Rift device, record your activity and hold the images ransom for "a couple of bitcoins." It's a speculative Black Mirror-esque scenario, sure — but all of the deadbolts and Bluetooth sensors in the world wouldn't save you.