'13 Reasons Why' Season 2: How the Netflix series can address the criticism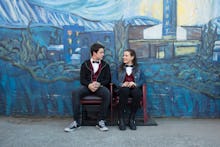 Netflix's 13 Reasons Why has been one of the more polarizing series of the year. While the teen drama has been largely lauded by critics and become somewhat of a social media sensation among fans, many mental health professionals have shown concern over the series' depictions of serious issues like suicide and sexual assault. 
Despite the controversy surrounding the show, it should not come as much of a surprise that Netflix has renewed 13 Reasons Why for a second season. And with a second installment on the way, it is important that Netflix, and the 13 Reasons Why creative team, take note of some of the criticism that has been directed toward the series. And to be fair, they have begun doing so.
Netflix recently announced that it would be strengthening the warnings that accompany the series. The warning cards will now also include the URL 13ReasonsWhy.info, which provides important resources such as a crisis text line. There is, of course, still room for improvement. Eric Beeson, a licensed professional counselor and faculty member at the Family Institute at Northwestern University, told Mic in a phone interview that while these warnings are "a step in the right direction," more could be done. 
"It wouldn't be hard to provide resources alongside of those warnings," Beeson said. "I wish they were still right on the screen, like a crisis text line, should you need it." 
Important dialogues
As Netflix and the producers begin their prep for 13 Reasons Why's second season, they would be prudent to continue reflecting on some of the responses the show has received, both positive and negative. "I hope the writers do take those suggestions that people have been giving and put it into a second season," Beeson said.
Season two may also allow for further dialogue around issues that were overshadowed by the first season's suicide narrative. Beeson noted there are a myriad important issues presented in 13 Reasons Why that have not received the same attention as Hannah's suicide. These include discussions about sexual assault, bullying and the effectiveness of school counseling services. 
Further exploration of these things in a second season could lead to important, and necessary, dialogues. "I think [the series] highlights the need for comprehensive funding for mental health services in schools [and] for school-based counseling services that are frankly some of the first to get cut when there are funding dilemmas," Beeson explained, in response to the school's handling of Hannah's troubles in the series. 
Beeson also said he hopes the series will help individuals become more aware of how they treat others, noting Clay's growth throughout the first season. "Through [Clay's new] awareness of the importance to reach out to people, he reengages [with a troubled friend], and I think that is one of the narratives that has been snuffed out by the sensationalizing of the suicide," Beeson said.
Sensitive scenarios
Perhaps the most controversial aspect of 13 Reasons Why is the creative liberty that was taken in the portrayal of Hannah Baker's suicide. While Beeson observed that showing Hannah's suicide may be partially responsible for the increased attention on teen suicide generated by the show, he said that it probably did not have to be shown in such graphic detail. 
"I think that they probably could have done more on the back end to elevate the story rather than showing it the way that they did," Beeson said. The series' producers may want to take note of this when it comes to plotting out further sensitive scenarios in season two. 
Going forward
While it is too early to know for sure what the main plot of 13 Reasons Why's second season will be, it is likely that the series will pick up pretty close to where it left off. This means addressing some of the first season's cliffhangers, including the setup of a possible school shooting.
According to Beeson, Netflix should do their due diligence when it comes to addressing this topic, including speaking with those that have either been through such a tragedy, or have experience in dealing with them. 
"If they take the same creative liberty in the second season, I am really concerned if they set it up with a potential school shooting scenario," Beeson said. "If they take the same creative liberty [that they did] with [Hannah's] suicide, I am super concerned how that is going to come across."
Hopefully, all those involved with 13 Reasons Why's second season will take advantage of all of the resources at their disposal, so that the series leads to more positive discussion and progress. 
Editor's note: For information about suicide prevention or to speak with someone confidentially, contact the National Suicide Prevention Lifeline at 1 (800) 273-8255 or the Crisis Text Line at 741-741. Both provide free, anonymous support 24 hours a day, seven days a week.
Mic has ongoing coverage of 13 Reasons Why. Please follow our main 13 Reasons Why hub here.