'Call Of Duty: Black Ops 3' Zombies Chronicles Release Date and Price: DLC cost revealed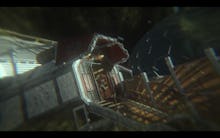 If you just can't wait to get your hands on Call Of Duty: WWII or its now-teased zombie mode, don't worry. You'll have more than enough opportunity to pull off some sweet headshots against the undead and convince yourself that you'd be able to pull your weight in some kind of Walking Dead-style post-apocalyptic scenario when Treyarch's Zombies Chronicles downloadable content drops for Call Of Duty: Black Ops 3 this month on May 16.
But the real question is: How much is it going to cost you, and what are you going to get for your money when that Call Of Duty: Black Ops 3 Zombies Chronicles release date arrives? We've got the answers for you below.
Call Of Duty: Black Ops 3 Zombies Chronicles release date and price: The DLC might be a little steep
According to PlayStation Lifestyle, the DLC will cost $29.99 to purchase on the PlayStation Store. It's also not included in the base game's season pass, so there's no way to avoid ponying up the extra $30 if you want to shoot some zombies.
The DLC will take up 12.2GB of hard drive space, and will grant you access to eight remastered maps from World At War and Black Ops 1 and 2, in addition to 20 vials of something called Liquid Divinium, two "GobbleGums," and an exclusive weapon camo. You'll also get a PS4 theme if you preorder, and if you're swayed by such things. 
The DLC drops on May 16 for PS4 and will coincide with Treyarch's "8 Days Of Undead," which will allow Black Ops 3 and Zombies Chronicles players to receive double XP and other goodies while playing.
More gaming news and updates
Check out the latest from Mic, including our deep dive into how female Overwatch players are dealing with online harassment, an article about a fan movement advocating for more same-sex romance options in Mass Effect, a personal essay to JonTron from another Iranian-American and an article looking at cultural diversity in Overwatch.