What is a "Golden Visa?" Here's why the EB-5 visa program matters.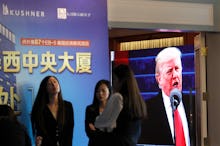 On Monday, the New York Times ran a piece from its Editorial Board titled "The Kushners and Their Golden Visas."
According to the Board, the Kushner family has been using its proximity to the White House through Ivanka Trump's husband, Jared Kushner, as a selling point for potential Chinese investors while "promising them green cards."
The Times noted that the Kushner family has apologized for its presentation, and that Jared is no longer an official manager of the Kushner family's business.
But the story elevated questions about the ethics of the U.S. EB-5 program and whether or not it should continue.
EB-5 program is criticized for essentially selling visas to the wealthy
The most eyebrow-raising part of the EB-5 visa program is how overtly it privileges applicants based on their economic status.
The U.S. Citizenship and Immigration Services official website describes EB-5 as a way to boost the economy:
Congress created the EB-5 Program in 1990 to stimulate the U.S. economy through job creation and capital investment by foreign investors. In 1992, Congress created the Immigrant Investor Program, also known as the Regional Center Program. This sets aside EB-5 visas for participants who invest in commercial enterprises associated with regional centers approved by USCIS based on proposals for promoting economic growth.
The program is a fast track to receiving conditional permanent resident status in the U.S. and has 10,000 slots available per year.
Applicants have to meet two criteria, which include making a "necessary investment" of at least $500,000 in a U.S. commercial enterprise and having a plan to create at least 10 "permanent full-time jobs for qualified U.S. workers."
In other words, foreign actors can essentially buy their way into the U.S. through this program by investing almost 10 times the yearly median American household income in a U.S. commercial business, per the Times.
According to the Washington Post, President Donald Trump, who famously tried to prevent thousands of legal refugees and immigrants from entering the U.S., extended the EB-5 program without "long-promised changes" when he signed the federal spending bill.
Senators Diane Feinstein (D-Calif.) and Chuck Grassley (R-Iowa) have introduced a bipartisan bill, which was referred to the Committee on the Judiciary, to completely eliminate the EB-5 program.