Be the next Wendy's chicken nugget guy: 3 secrets to winning the "free stuff" jackpot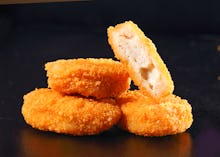 Looks like the Wendy's chicken nugget kid is really going to get his gold, despite what you (or he) expected: Even after teen Carter Wilkerson got Wendy's to promise him a year's supply of nuggets for getting 18 million retweets — and his challenge to the fast-food company went viral — Wilkerson told the New York Times he assumed the free nuggets were still a pipe dream. 
But 3 million-plus shares later, Wilkerson nabbed a Guinness World Record for the most-ever retweets — officially surpassing a record set by the Ellen DeGeneres on her famous celeb-packed selfie at the 2014 Oscars. Perhaps unsurprisingly, Wendy's relented and announced Tuesday that the company will give Wilkerson his prize despite his not reaching the 18 million mark.
The company confirmed the prize in an email to Mic: a year's supply of chicken nuggets and a $100,000 donation in his name to the Dave Thomas Foundation for Adoption. "He's getting a year's worth of nuggets," said Kurt Kane, chief concept and marketing officer for Wendy's, "plus some."
Now, if you're hoping to replicate the young Carter's feat, it's not impossible, but it would help if you had similar devotion. Commit a little time and energy, and you might even be able to nab a free lifetime supply of your favorite product: Brands can be pretty generous when it's in their best interest.
Here are three moves to increase your odds of winning a year of free stuff — or even a lifetime supply — based on the lessons of several folks who have hit the freebie jackpot.
1. Play the long game
This wasn't the first time Wilkerson expressed a love for Wendy's nuggets. Back in January — before he ever went viral — as the New York Times found, Wilkerson tweeted a message "highly recommend[ing] Wendy's chicken nuggets to everyone." Notably, he did not go around touting the greatness of McDonald's nuggets.
If you actually love a product (after all, why else would you want a year's or lifetime supply?) be patient in your quest. Brands are pretty keen on being loved — and playing up rivalries — so they respond well to commitment.
2. Decide just how far you're willing to go 
All told, it took Wilkerson about a month to seal his deal. But certain freebies will take more serious commitment than others. Matthew McConaughey's brother and television host Rooster McConaughey won a free year of Miller Hi Life for naming his son Miller Lyte; TMZ notes he'd been informally promoting the beer for years, appearing on set with a beer in his hand during tapings of his show West Texas Investors Club.
Even if you're willing to go to extremes, you might have more competition than you expect. When the German airline Lufthansa offered a year's living expenses to a Swede willing to legally change their name to "Klaus-Heidi," a portmanteau of two common German names, 42 contestants came forward.
Overwhelmed by all the Klaus-Heidis, Lufthansa had to shut the contest down early — choosing a single winner and giving runners up frequent flyer perks. Though arguably those folks have got nothing on the guy who reportedly changed his name to "iPhone 7" to nab a free Apple gadget.
3. Know being epic trumps following rules
The biggest takeaway from Wilkerson's experience? It's more important to be epic than it is to follow the rules. Wilkerson got his bounty after falling far short of the 18 million retweet goal. But notably, he wasn't responding to any kind of promotion when he set out on his endeavor: He just sent a note to his favorite brand and then dug in his heels. That made him stand out.
Now, "being epic" does not mean you have to sell real estate on your body for a prize, like those who got a Reebok logo tattoo in exchange for a meager $5,800 worth of gear (not to mention folks selling forehead space). In fact, the best freebie winners know exactly how to balance commitment and reward.
You might simply showcase your creative flair by, say, writing a persuasive essay to win a lifetime supply of Ben & Jerry's — or crafting a toilet paper wedding dress for a lifetime supply of Charmin. Basically: Your effort should be great, but your prize should always be greater.
So do the math. A year's supply of Wendy's nuggets lasts a year — and might only save you about $650, the cost of buying one 6-piece of nuggets for 365 days. For a die-hard nugget lover, that might be worth a month-long effort to make a tweet go viral. But whether a year's or lifetime supply of anything is worth a tattoo or name change? That's a whole other question.
Sign up for The Payoff — your weekly crash course on how to live your best financial life. Additionally, for all your burning money questions, check out Mic's credit, savings, career, investing and health care hubs for more information — that pays off.