America's war in Afghanistan by the numbers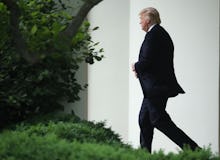 Now in its 16th year, the War in Afghanistan is officially the longest foreign conflict in American history — and it doesn't seem likely to end anytime soon.
With President Donald Trump reportedly weighing the possibility of committing as many as 5,000 additional troops to aid in the fighting in Afghanistan, now is as good a time as ever to look back on more than a decade-and-a-half of war in the country.
Below are some numbers that help to contextualize the conflict, which has proved itself to be one of the most costly in U.S. history — not just in terms of dollars, but also in lives.
13,000
The approximate number of men and women currently serving as part of an international coalition to combat the Taliban in Afghanistan.
8,400
The approximate number of those combatants who are American, according to the New York Times.
3,000 to 5,000
Additional troops called for in a proposal drafted by Trump's chief advisers. 
22,000
Weight, in pounds, of the Massive Ordinance Air Blast Bomb the U.S. dropped on a network of Taliban-controlled tunnels in Afghanistan's Nangarhar province
96
The number of Islamic State fighters reportedly killed in the blast, according to the New York Times. 
30,000
The number of additional troops President Barack Obama ordered to be deployed in Afghanistan in December 2009. 
"We must deny al-Qaeda a safe haven," Obama said at the time. "We must reverse the Taliban's momentum. ... And we must strengthen the capacity of Afghanistan's security forces and government."
In the speech announcing the troop reinforcement, Obama also pledged to begin withdrawing American forces from the region in about 18 months' time.
5,500 
The number of U.S. troops Obama later announced would remain in Afghanistan into 2017 — long after the original date the withdrawal had been slated for. 
The former president cited gains made by the Taliban, as well as U.S.-allied Afghan fighters not being equipped to continue fighting on their own, as his reasons for maintaining a ground presence in the country.
$686 billion 
The amount of money the Congressional Research Service estimated the U.S. had spent on Operation Enduring Freedom in Afghanistan as of 2014, according to PolitiFact. Combined with its other conflicts in Iraq, Pakistan and Syria, one Brown University study estimated that the total cost of America's wars in the Middle East clocked in at about $3.6 trillion from 2001 to 2016.
3,532
The estimated total number of international military fatalities in Afghanistan since the war began in 2001. American lives reportedly amount to as many as 2,396 on their own.
31,000
The approximate number of Afghan civilians that have died as a result of the war since 2001.