How to change your Snapchat username — it's not as simple as you'd think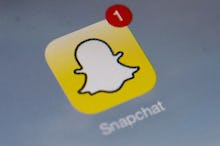 Snapchat boasts 161 million daily active users, which means there are at least 161 million usernames claimed on the social media platform. And among both the active and the inactive usernames, there are bound to be users who regret their initial choice. For those looking to change their username, there's good and bad news.
Snapchat usernames cannot be changed
Users looking to change their Snapchat username should know that it's currently not an option on the social media platform. "For security reasons, it is currently not possible to change the username for an existing account," Snapchat says on its support page. So once you've made your account, you're stuck with the name you chose for that particular account. 
The only way to change your username is to create a new one
Those desperately looking for a new username on Snapchat do have one option: They can delete their existing account and create a new one. If you have a particular username in mind, it may be worth checking if the username is available before deleting your existing account. Once a username is created, it is no longer available for anyone else to use, even if the account associated with it is deleted.
To delete a Snapchat account, users can go to this page and put in the username and password for the account they want to delete. Those who regret they impulsive decisions can rest easy knowing that the account is merely deactivated for the first 30 days — friends and followers will not be able to contact or interact with you on the platform — and will only be permanently deleted after that. In the 30-day deactivation window, users can log into Snapchat to reactivate their account.
How to customize a Snapchat name
Aside from deleting and recreating an account, users can customize their display name, which pops up to fellow Snapchatters that a user adds. There are two ways to change the account's display name.
One way is to open up the app, go to the profile screen, tap the name under the Snapcode and enter a first and/or last name before clicking "Save." Alternatively, users can open the app, go to the profile screen, tap the wheel icon on the upper right corner, select "Name" under "My Account," and manually input a first and last name.