Simone Biles isn't here to smile on demand, thank you very much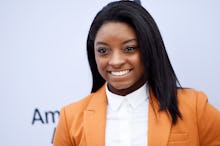 Olympic gymnast Simone Biles brought her game face to Monday night's episode of Dancing With the Stars — but apparently not everyone was ready for it.
After performing an Argentine tango with her partner, Sasha Farber, Biles faced the judges' mixed bag of harsh criticism and glowing praise, both of which she received with a neutral expression.  
Before Biles could leave the stage, host Tom Bergeron couldn't help but point out she hadn't smiled during the judges' critiques.
"I was waiting for you to smile at some of the compliments," Bergeron said. "You didn't."
There are any number of scathing ways a young woman could respond to a man asking her to smile, especially when that man is a stranger on the street harassing you.
But on the Dancing With the Stars stage, Biles, ever the queen of poise and grace, dismissed Bergeron's comment with a shrug and an epic reply: "Smiling doesn't win you gold medals." 
Biles, of course, would know — she has four.