Would you pay $100,000 to own 7 iconic Britney Spears looks? (The answer should be yes.)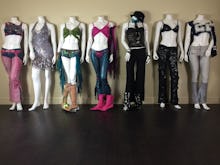 With the current bid at $99,995, a cool $100,000 could land your wardrobe the addition of seven Britney Spears costumes from over the years.
The eBay auction of "arguably the most iconic costumes in music history" from collector Dana Proctor includes the Levi's chaps worn in Spears' 2002 video for "Overprotected (Darkchild Remix)," the custom Atelier Versace dress Spears wore to the 2008 VMAs, and the music video looks from "I'm a Slave 4 U" and "Me Against the Music."
The reason why she's putting the costumes up for auction? "Britney is ending her Piece of Me show in Vegas at the end of the year, and with this being her ninth album, it wouldn't surprise me if she retires after 18 years," Proctor wrote on the site.
Just about ready to shell out the six figures required, but trepidatious about the outfits' authenticity? "You can fly to Edmonton, Alberta, Canada, today and come take a closer look," Proctor wrote. That, or have a look at the certificates of authenticity which come included with the purchase.
Wanting just one of the looks but not the full set? Unfortunately, that's not an option. "I believe they belong together," Proctor wrote, adding: "I don't want to see the hottest video of all time and VMA Slave split up."