'Pokémon Go' Russia trial could send controversial blogger to jail for over 3 years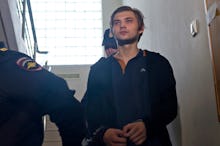 A Russian video blogger may face as many as three and a half years in prison for a video in which he plays Pokémon Go in the Church of All Saints in Yekaterinburg, Russia, and likens Jesus to one of Nintendo's pocket monsters. He is being charged with inciting religious hatred and has been in detention ever since being arrested.
Pokémon Go Russia Trial: Viral video may have costly consequences
According to Kotaku, video blogger Ruslan Sokolovsky was arrested in 2016 shortly after making a video where he plays Pokémon Go inside of the Church of All Saints. Sokolovsky, an atheist, begins the video by (ominously enough) outlining the various fines and prison sentences one might receive for mocking the Orthodox church. He concludes it by walking through the various rooms in the church while joking about not being able to catch Jesus, who he refers to as "the rarest Pokémon that you could find there."
This video had severe repercussions for Sokolovsky after Russian officials discovered it and arrested him. According to the Washington Post, Sokolovsky is being charged with inciting religious hatred, a violation of laws that were passed in the aftermath of the Pussy Riot punk rock collective's protest against Vladimir Putin at an Orthodox cathedral back in 2012. This protest, which saw two members of the collective jailed on charges of hooliganism, helped spur the creation of a law that criminalized activities which "insult the feelings of believers."
Sokolovsky's trial concluded on Friday, and prosecutors requested a maximum sentence of three and a half years in jail for the blogger if convicted. Although the trial is already completed, it remains to be seen whether or not the Russian courts will agree to the prosecution's three and a half year sentence. A judge will rule on Sokolovsky's case on Thursday.
More gaming news and updates
Check out the latest from Mic, including our deep dive into how female Overwatch players are dealing with online harassment, an article about a fan movement advocating for more same-sex romance options in Mass Effect, a cool making-of video for Legend of Zelda: Breath of the Wild and an article about what a Bechdel test for gaming might look like.