Condoleezza Rice: "Democracy is not just what happens in Washington"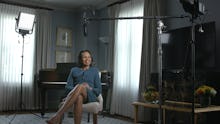 (Editor's note: Condoleezza Rice is an investor in Mic.)
In a video op-ed for Mic, Condoleezza Rice discusses how populism has changed the political conversation, her experience growing up in the segregated South and why she's optimistic about democracy in the United States. 
Her new book, Democracy: Stories From the Long Road to Freedom, was released Tuesday.
Rice served as secretary of state from 2005 to 2009 in President George W. Bush's administration and was the first African-American woman to hold that office. She is currently a professor at Stanford University and a senior fellow at the Hoover Institution.