Who is Francesca in 'Master of None'? Why this season 2 character matters.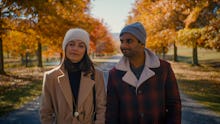 In the first season of Master of None, Aziz Ansari's Dev eventually set his sights on Rachel as his romantic partner. But within one soul-crushing, months-long episode, Rachel and Dev have broken up before the season finale. She's heading to Tokyo for a job, while Dev meanders around New York. Until it hits him: Fuck it, I'll go to Italy and learn to make pasta.  
(Editor's note: Spoilers for Master of None season two ahead). 
So that's where we start the second season of Master of None, with Dev in idyllic, Instagram-friendly Modena, Italy, during his pasta fellowship. But while viewers will — quite understandably — get distracted by the mouth-watering Italian food Dev surrounds himself with, pay close attention to his interactions with Francesca (a charming Alessandra Mastronardi), the granddaughter of the pasta shop Dev works at. 
There's an undeniable spark between Dev and Francesca, which is apparent from the early episodes in Italy. But, of course, there's a catch: Francesca is engaged. It's a rather cliché setup — especially since Master of None takes great lengths to show us that her fiancé Pinot is a rather uninteresting person with a fascination for literal tiles — but the on-screen chemistry between Ansari and Mastronardi saves the show from its cheesiest tendencies. 
Things take an especially problematic turn when Francesca travels to New York with her fiancé, once Dev returns to the city. They spend a lot of one-on-one time together, going to sculpture gardens, cocktail parties and spending nights inside sheltering from the snow. Is Dev reading into the situation a bit too much? Judge for yourself, based on this sumptuous photo.  
Yeah, there's something there between them, which perhaps wasn't present with Rachel and Dev. But still, that pesky engagement remains! 
Dev's struggle is best encompassed earlier in the season, after he drops her off at her hotel in an Uber. We get an extended, continuous shot of Dev in the back seat after she leaves, as he physically and emotionally grapples with telling her his true feelings and potentially ruining a special friendship, or keeping it to himself.
So, what does the future hold for Dev and Francesca — will she stay with her fiancé Pinot and live in Italy, or take a chance in New York with Dev? The final shot of the season finale rather ambiguously answers that question, which you can read about more here. 
Suffice to it say, if Master of None does return for a third season, we'll get a better idea of what happens between the two. For better or worse. 
The second season of Master of None is currently streaming on Netflix. 
Mic has ongoing Master of None coverage. Follow our main Master of None hub here.