GOP Senator mansplains to women that controvery over all-male health care panel is "bogus"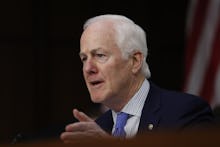 Senate Republicans put together a group of 13 GOP members on Friday to rewrite the American Health Care Act — a piece of legislation that, if passed, would reshape a major chunk of the U.S. economy. Moreover, the bill could have sweeping implications for women's access to health care, such as defunding Planned Parenthood clinics that provide family planning services to more than half of the U.S. population — that is, women. 
But of the 13 Republicans working to come up with a bill, precisely zero of them are women. Naturally, Democratic women are not pleased with this development.
Yet Senate Majority Whip John Cornyn (R-Texas), when asked about a report that the White House was seeking to get more women onto the panel for the "optics," called the whole issue of an all-male working group "totally bogus," according to a report from CNN.
Unfazed by this, Democrats have decided to make it an issue.
"The GOP is crafting policy on an issue that directly impacts women without including a single woman in the process," Sen. Kamala Harris (D-Calif.) tweeted. "It's wrong."
EMILY's List, a group that seeks to boost women Democratic candidates who support abortion rights, also came out against the all-male working group.
"Not a SINGLE woman will be working on this bill," the group tweeted. 
Cornyn, for his part, said women will be heard.
"Every single woman in our conference is involved," Cornyn told CNN. "We would invite Democratic women. We would invite everybody."
But it hasn't happened yet. There were reports earlier on Tuesday that a woman had been added to the panel, but a spokesman for Senate Majority Leader Mitch McConnell (R-Ky.) admitted it wasn't true. 
Republicans are seeking to pass a health care bill through a process called budget reconciliation. It's a process that requires just a simple majority of senators to pass. Given that Republicans hold a 52-seat Senate majority, they won't need to woo any Democrats to vote for their plan in order for it to pass.