Here's why it took so long for the 'Twin Peaks' reboot to actualize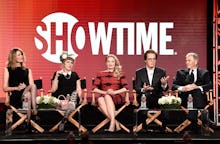 Much like the original Twin Peaks, the iconic series that inspired some of today's most respected TV shows, the revival's development has been slow yet captivatingly enigmatic. Co-creators David Lynch and Mark Frost first started talking about it over meals at Los Angeles eatery Musso & Frank in August 2012, Variety reported. 
Then, in October 2014, Lynch posted this mysterious tweet:
The message is a throwback to an episode from season one of the original series, in which Agent Cooper — played by the inimitable Kyle MacLachlan — is given several clues in the form of riddles by the little person who often hosts the Red Room, aka Cooper's dreamscape. While Lynch's message was far from clear, it seemed to suggest a possible return to the unusual town of Twin Peaks, Minnesota. 
Sure enough, Deadline announced the following week that the beloved series would return in 2016 for nine episodes on Showtime, just in time for the 25-year reunion suggested by Laura Palmer in the original series.
Of course, if that were the end of the story, it wouldn't be the winding narrative murder mystery that achieved cult classic status after only two seasons. 
Between October 2014 and April 2015, the reboot started to fall apart at the seams, culminating in this announcement by Lynch:
Showtime CEO David Nevins elaborated on this in May, saying it wasn't the 400-page script Lynch presented in January 2015 that halted production — it was a disagreement on the size and scope of the project as a whole, according to Variety.
"[Lynch's proposed season] didn't fit into the box of how people are used to negotiating these kinds of deals," Nevins told Variety. "Once I understood what the issues were from the point of view of the filmmaker, I was like, 'OK, we can figure that out.'"
Within a month, it seemed everything between Showtime and Lynch was worked out and the reboot was back on track:
What would Twin Peaks have been like without its original co-creator and director? Nowhere near the caliber of a damn fine cup of coffee, that's for sure.
So, why didn't the Twin Peaks reboot premiere in 2016 as originally intended? Perhaps for the same reason it stalled in the first place — the show had grown significantly in scope and probably required more time to complete.
Now that the May 21 premiere date is rapidly approaching, here's what can be expected from the long-anticipated revival. Be forewarned: The elusive Lynch has kept the series tightly under wraps, so there's not much to tell. 
There are quite a few cast members returning to the show, including MacLachlan as FBI Agent Dale Cooper, Mädchen Amick as Shelly Johnson, Alicia Witt as Gersten Hayward — hopefully she'll be playing the piano — Ray Wise as Leland Palmer and Peggy Lipton as Norma Jennings. The townsfolk, for the most part, should feel very familiar to Twin Peaks fans.
Newcomers include Laura Dern, Michael Cera, Amanda Seyfried, Tom Sizemore, Eddie Vedder, Tim Roth and Ashley Judd, and that's just a smattering of the stars joining the reboot. Of course, their character names remain a mystery and most appear to be making single-episode cameos. After all, who wouldn't want to give up a day to be featured on perhaps the greatest cult classic of all time? 
As far as the revival's story goes, little to nothing has been revealed, apart from a few cryptic teasers. The only clear hint we have so far is that the follow-up film to the original series, Twin Peaks: Fire, Walk With Me is key to understanding what happens in the reboot, Lynch told Variety. For those who haven't yet jumped into that world, it's very different from classic Twin Peaks. That alone suggests audiences should expect the unexpected, beyond the Lynch's already unpredictable style. 
Following suit with Lynch's love of metaphoric clues, this quote he gave Variety on his creative approach might offer some insight into how the story will develop:
An idea comes in, and if you stop and think about it, it has sound, it has image, it has a mood and it even has an indication of wardrobe, and knowing a character, or the way they speak, the words they say. A whole bunch of things can come in an instant.
That notion is certainly reflected in this new trailer featuring some old, familiar faces:
Twin Peaks premieres at 9 p.m. Eastern on May 21 on Showtime.
Mic has ongoing Twin Peaks coverage. Please follow our main Twin Peaks hub here.