'Pokémon Stars' Switch Release Date: E3 2017 Direct presentation rumored for the next game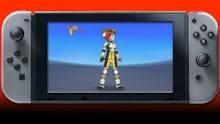 Sometimes it feels like the Pokémon Stars Nintendo Switch release date will never come, but GameFreak and the Pokémon Company have to bring us a follow-up to Sun and Moon eventually, right? So what better time to announce it than E3 2017? Nintendo won't be making any big announcements at the Electronic Entertainment Expo in person, but the company could opt for a Direct presentation during the event. That digital reveal, some are speculating, will belong to Pokémon.
Pokémon Stars Switch release date: How do we know Nintendo will have a Direct announcement?
NeoGAF user Cerium points to the empty spot on the Nintendo Direct archives as proof that a new announcement is coming soon. When compared to the same page on April 30, it definitely looks like Nintendo is making room for something.
Nintendo removing one of the Direct announcements to make room for a new one right before E3 2017 is exciting enough. Even more exciting was the Direct it choose to remove: the previous Pokémon announcement. Most interesting ...
Pokémon Stars Switch release date: Could it come ever earlier?
We can't say for sure what Nintendo's next announcement will bring, but Redditor Dystify points out that the company has a habit for breaking big Pokémon news in May. The first set of full details about Pokémon Sun and Moon: May. The first time we heard about Pokémon Omega Ruby and Alpha Sapphire: May. Even Pokémon X and Y saw some substantial details come out in May 2013.
Traditionally, the main Pokémon games have only appeared on handheld devices like the Game Boy, DS and 3DS. However, the Nintendo Switch is both a home console and a handheld, so it's totally possible that the new device could be next in line for the Pokémon series.
If that's the case, then the question is really just when Nintendo and the Pokémon Company will get around to announcing the new game. There's some evidence out there to suggest the reveal could be coming next month (or sooner), but for now it's still too soon to say.
Check out more Pokémon news and coverage
While you wait for Pokémon Stars,
If you think the original Pokémon are the best, you're dead wrong. Check out Mic's Pokémon Go guides on how to get stardust, how to determine how long it will take you to reach level 40, the kind of Pokémon you get from 10-kilometer eggs, how to create new PokéStops, how to maximize your chances of catching Pokémon and how PokéStops distribute Pokémon eggs. Also check out how to catch Gen 2 baby Pokémon, our analysis of post-balance update Chansey and Rhydon and everything you need to know about finding the long-awaited Pokémon Ditto.