Senate confirms Scott Gottlieb to lead FDA in Trump administration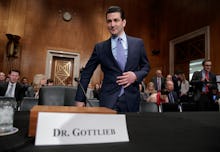 On Tuesday evening, the United States Senate voted 57-42 to confirm Scott Gottlieb — a physician, American Enterprise Institute fellow and venture capitalist — as head of the Food and Drug Administration.
Gottlieb — a cancer survivor who previously served as deputy commissioner of the FDA during the George W. Bush administration — will take the helm of the agency President Donald Trump has targeted for sharp budget cuts.
While he is seen as less radical than other two other candidates for the job Trump considered nominating, according to STAT News, Gottlieb was not without controversy. Gottlieb's deep ties to the pharmaceutical companies he is now responsible for regulating raise conflict of interest concerns — and, critics say, make him unfit to deal with the nation's ongoing opioid crisis.
A "shill" for drug companies?
According to STAT, Trump ally Peter Thiel had pressed the president to nominate one of two radical libertarians to the post — both of whom questioned the essential role of the FDA. 
But Gottlieb was cheered by past agency administrators from both parties as a "far more conventional choice," according to STAT, and also by the pharmaceutical industry he has deep ties to.
"We're very pleased he's the nominee," David Bearss, chief executive of Tolero Pharmaceuticals, told the publication in April. 
But those ties — to Tolero, Vertex Pharmaceuticals and New Enterprise Associates, among others — have been the chief point of criticism for his Democratic opponents. 
"Dr. Gottlieb has had a cozy relationship with big drug companies for decades," Democratic Sen. Sherrod Brown said in April, according to NBC News. "He has supported allowing those same companies to rush their drugs — including potentially addictive opioid painkillers — onto the market before we're sure that they're safe."
Gottlieb has said he will divest from nearly two dozen companies he has holdings in, according to Reuters, and will reportedly recuse himself from decisions involving entities he's been tied to.
But before the vote Tuesday, Senate Democrats argued that might not be enough — and that his ties to drug companies would keep him from tackling issues regarding prescription painkillers and other opioids as FDA chief.
"We need all hands on deck to fight this crisis. We need the FDA," Sen. Sherrod Brown said on Tuesday, ahead of the vote. "Unfortunately, Dr. Gottlieb's record indicates he would not the epidemic and the FDA's authority to rein in prescription painkillers and other drugs seriously, which is why I cannot support his nomination." 
What's next after Gottlieb confirmation?
Gottlieb takes over the FDA as President Donald Trump promises big changes at the agency. Trump has suggested easing regulations, and proposed a $15.1 billion cut overall to the Department of Health and Human Services, which houses the FDA. 
According to CNN, Gottlieb also appears to support overhauling the FDA and is expected to immediately implement the 21st Century Cures Act, quickening the drug approval process by easing clinical trial requirements. 
He's also expected to push for "right to try" policies, which allow terminally ill patients to try experimental drugs that have not yet been fully approved by the FDA. 
Proponents of the laws — which have been passed in 33 states and are backed by the Trump administration — say they give patients a shot at "potentially life-saving treatments." But critics warn that they could allow drug companies to take advantage of desperate patients to for financial gain.