How to take your dog on a road trip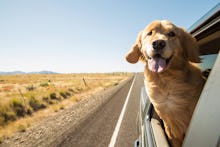 The look on Sophie's face every time I pack up my suitcase for another adventure is the most difficult part about being a travel writer. She knows I'm leaving, but in typical dog fashion, is unaware of when, or if, I'll return.
In an attempt to balance my love for my dog with my love for travel, I planned a 10-day road trip through the American Southwest for us. I had this romantic notion of "dog as my copilot," including fantasies of Sophie's head thrust out the car window taking in all the scents of the disappearing memories along historic Route 66.
But just because I can handle sitting in a car for 12 hours doesn't mean that my 50-pound German Shepherd mix can do the same. I needed to plan my time around what Sophie could handle, since many hotels — even the ones that allow pets — don't let dogs hang out in rooms alone. Plus, many natural spaces and parks are not dog-friendly, and while she has quietly endured a number of drives from San Francisco to Los Angeles, I had no idea how increased hours and windier roads would affect her.
AAA's Petbook served as my guide for piecing together an itinerary. It lists hotels, parks and restaurants around the U.S. and Canada that allow dogs and their associated fees, as well as advice on how to make the experience as rewarding as possible. The best advice? A reminder that bringing a dog on a road trip should be seen as an adventure taken together, not simply to assuage the guilt of leaving a pet at home. 
The plan: We would first stop at Carrizo Plain National Monument in the central coast of California to see the wildflower superbloom, then drive through northern Arizona and as far east as Santa Fe before looping back to the national parks in Utah, and finally end in Las Vegas.
I packed up my Jeep Wrangler with everything we might feasibly need, including bedding if we were unable to secure a dog-friendly room at a hotel. (I did learn from the AAA book that all La Quinta hotels are dog-friendly.) The "Sophie bag" included a towel, treats, two of her favorite toys, a dog bowl, two spare liters of water (refillable), her bed from home and more than enough food to last the almost 4,000 mile trip. I kept her leash handy in the front seat, where she sat most of the time, though her weight was just enough to trigger the seatbelt warning every so often. I had to keep it buckled lest we be burdened by the dings.
As I learned firsthand, road-tripping may increase anxiety or stress in your dog. Sophie was more jittery and prone to barking, and had to urinate more frequently. Next time, I'll take into consideration that adjustment period.
Being a solo traveler with a canine companion had its limitations, but that just forced me to get creative.
One thing I learned quickly: Front-seat dog passengers are much different than human ones. While Sophie isn't a big panter to begin with, avoiding hot dog breath was key during our many hours together. I made sure to maintain a level of air conditioning that kept her from overheating and filling the car with that stank. It was easy enough for me to slip on an extra layer if it got too cold in the car.
Sophie got her energy out at dog parks in small cities between major sites and stops, giving me the opportunity to meet locals I would have never run into otherwise. We stopped at off-the-beaten-path sites like the River House Anasazi Ruins near Bluff, Utah, since the national parks are generally not the most welcoming to dogs.
The Recapture Lodge in Bluff was one particularly wonderful place for dogs and their people. Every room has front door access to an outdoor area where dogs can go to the bathroom or run around, and there's even a resident dog who became Sophie's best friend for a good hour, while another guest's dog played around in my room. None of these encounters would have happened without Sophie.
Equally memorable were the smiles Sophie brought to people's faces, particularly travelers who had left their pets at home. Passengers in other cars frequently pointed and waved at her, but Sophie's effect was most noticeable in Las Vegas. We stayed at both the luxury Delano and Vdara hotels, which are dog-friendly to the point of having room service menus catered entirely to dogs. (Sophie strongly recommends the Delano's bow-wow burger.)
We shared a less luxurious meal in Sedona, Arizona, both of us exhausted from more than 12 hours on the road. I was shaky and a little delirious since I hadn't eaten that day, so I picked up an entire pizza nearby and brought it back to the room. I sat on the floor, devouring what has to be the most delicious pizza I've ever eaten, while Sophie lay next to me and ate my crusts as I finished my slices. We may not have said much during this mutually understood moment of utter satisfaction, but everything was communicated.  
I learned a handful of life lessons on my trip with Sophie. The first: Never be more than an arm's length away from a poop bag. Next: If the dog wants to play fetch after driving all day, play fetch. You'll both enjoy it.
The most stressful day of our trip was when Sophie ran off and rolled in a mud puddle at an abandoned golf course — right before we were about to check into a five-star hotel. Even the designated Sophie towel barely made a dent in removing the mud. This was a good reminder that I'm fully responsible for all of her behavior, just like any other pet owner.  
Despite the challenges and extra planning, the bonding Sophie and I experienced and the sidetracked adventures we had together made it all worth it. Plus, my car wouldn't have come home nearly as filthy if I wasn't so focused on getting Sophie into the outdoors, and that's a rite of passage for Wrangler owners. Both of us emerged from the adventure braver and more confident, something we each needed. By anticipating the needs of my dog as well as I understand my own, we were able to have the most memorable bonding experience on the road. Next up: Wyoming and Montana.