Why do we feel so guilty about using our vacation days?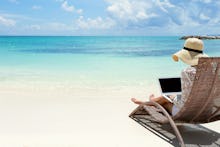 Americans have a reputation for not embracing their time off. More than half of Americans didn't use all their vacation days in 2015, which added up to 658 million unused vacation days.
If you're between 18 and 35 years old, you might be one of the worst offenders when it comes to leaving vacation days on the table. A whopping 68% of people in this age group reported feeling shame for requesting time off, a survey from rental car service Alamo found. What's worse, 40% of this group said vacation shaming would keep them from going on vacation (only 17% of other age groups said the same).
Why we feel vacation guilt
The "phenomenon" of vacation guilt is not new, according to Jessica de Bloom, a psychologist researching global trends in workaholism and vacation at University of Tampere in Finland. Your job dedication is linked to deeply ingrained cultural ideas about the moral goodness of work and productivity. 
"Feeling guilty when not at work is very common in Christian countries with Puritan work ethic," said de Bloom in an email. "Hard work is a basic value in many Western societies and not working is considered lazy and morally questionable." That's partially why being busy became so cool. But modern smartphones, ubiquitous WiFi and more "make it possible to stay connected to work 24/7," she said.
The difficulty of breaking free
Work obsession in the U.S. translates to a modern culture of work martyrdom, said Cait DeBaun, director of communications for Project: Time Off  — and it's ruining vacation for everyone. The organization, which is supported by the nonprofit U.S. Travel Association, researches and promotes the value of vacation. A work martyr is "someone who doesn't take vacation because they don't want to be seen as less dedicated," DeBaun said. These employees put work above all else because they want their superiors to see them as competent, smart and selfless. 
And with a smartphone, it's never been easier to take your work on vacation with you. Checking Slack while strolling through museums? Responding to email between bites of croissant? A few taps on your phone can transport you back to the daily grind, no matter how many miles you are from your office. A 2013 study found that 44% of workers check work messages once a day on vacation, and 34% reported that being constantly connected with technology made it difficult to stop thinking about work.
Our aversion to vacation also stems from our desire "to feel needed and important," De Bloom said. Many don't want their coworkers to notice they are "replaceable," she added. 
"I was worried that I'd get fired for taking so much time off to come home," said Julia Millon, a 25-year-old who previously worked as a recruiter. Millon explained that she would "compulsively" check email on vacations and had "an overwhelming sense of anxiety" if she received an urgent email, even though she knew her vacation responder email would provide an appropriate point of contact.
Vacation is your right
If you're feeling anxious about scheduling time off, know this: Vacation is part of your compensation and benefits package, and you're well within your rights as an employee to take the occasional break from your job. 
"You agree to do work and your employer agrees to compensate you. Vacations are part of that," said Eduardo Ramirez Holguin, a 27-year-old senior product designer who said he doesn't feel guilty for taking vacations because he's a "boundary pro" who leaves thorough notes on the status of his projects before he leaves.
"I don't feel guilty for taking my paycheck, either," he said. Holguin's current employer, a mid-sized tech company, treats vacation as earned compensation: employees earn five additional vacation days for every two years they work at the company, with a cap on 10 additional days, he said.
Some companies even offer employees stipends to spend on vacation. Tsheets, a time tracking app, gives a "vacation allowance" of up to $1,500 a year for flights, hotels, meals and more — as long as they don't check email or Slack during vacation, CEO Matt Rissell said. "I simply look at it as an investment into the health of our team," Rissell said in an email. "The increased productivity, innovation and results produced from happy employees is an upfront cost I'm willing to incur."
Three steps to vacation nirvana
For those who aren't forced to unplug, the secret to a guilt-less getaway is communicating expectations and boundaries with your team. Use these tactics and be the person in your office who stands up for the right to a stress-free vacation. 
• Find a point of contact for your ongoing projects. Ask a coworker if they would be willing to help guide any ongoing projects in your absence. Hopefully, you'll return the favor one day.
• Set a check-in time. If you need or want to be available to your coworkers, tell your team in advance that you'll be online at certain hours.
• Create email filters before you leave. Make life for your future self easier by setting up filters that automatically delete irrelevant emails and file other emails to a separate folder while you're gone. And if you're hoping to really get organized before you leave, here's an easy guide to achieving inbox zero.