Report: Bill O'Reilly's ex-wife caught him having phone sex. Then he attacked her.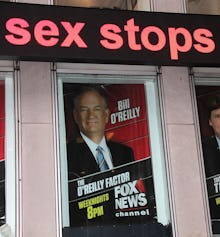 According to a report published by Jezebel Tuesday, Maureen McPhilmy, ex-wife of former Fox News titan Bill O'Reilly, swore in an affidavit that, one night in December 2009, O'Reilly slammed her into a wall and dragged her by the neck down the stairs of their home in Manhasset. This happened allegedly after McPhilmy caught O'Reilly, half naked, having phone sex with an unidentified party. 
O'Reilly's brutal assault of his wife only ended when he noticed he'd been spotted by a security guard for the family as he attacked McPhilmy in the kitchen while she screamed for help, according to the affidavit Jezebel reports.
Jezebel's report is the latest entry into a scandal that appeared to have ended with Fox News' decision to terminate Bill O'Reilly as host of ratings juggernaut The O'Reilly Factor after multiple big-name sponsors — including Mercedes-Benz and Advil — pulled their ads from the controversial conservative news show. The spate of withdrawals came as a direct consequence of a bombshell New York Times report which claimed Fox News settled for over $13 million with women who sued the network over O'Reilly's sexual and verbal harassment.
The disturbing revelations in the Times report sparked a protest outside Fox News headquarters in New York wherein sexual assault survivors and their allies called on O'Reilly's bosses to oust him from the network.
According to the report in the Times, Juliet Huddy, a former Fox News reporter, claimed that O'Reilly attempted to "derail her career" after Huddy rebuffed his sexual advances. In a letter sent to Fox News by Huddy's lawyers, she accused O'Reilly of masturbating on multiple phone calls with her. 
In 2004, Andrea Mackris, a producer who worked for O'Reilly at Fox News, filed a lawsuit against him accusing the host of sexually harassing her at work. In her suit, she alleged O'Reilly made multiple unwanted advances against her, including attempting to get her to have phone sex with him while he pleasured himself with a vibrator.