Donald Trump will follow up firing James Comey by meeting Russia's top diplomat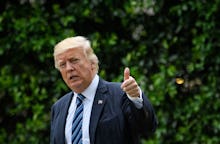 President Donald Trump will meet with Russia's Foreign Minister Sergey Lavrov on Wednesday — less than 24 hours after he fired FBI Director James Comey, who was investigating the Trump campaign's much-rumored ties to the Russian government.
According to a White House release, Lavrov and Trump will be convening in the Oval Office at 10:30 a.m. for a closed-door meeting.
On Tuesday, Trump fired Comey, citing the counsel of Attorney General Jeff Sessions and Deputy Attorney General Rod Rosenstein. Both insisted the termination had to do with Comey's handling of the FBI investigation into Democrat Hillary Clinton's emails, rather than his current handling of the active FBI investigation into whether Trump's campaign colluded with the Russian government to leak hacked data from Democratic email systems.
CNN reported shortly after Comey's firing that grand jury subpoenas had been issued earlier in the day in relation to the FBI's investigation into former national security adviser Michael Flynn, who was fired after media reports revealed he lied to other officials including Vice President Mike Pence about a secretive phone call with another Russian ambassador, Sergey Kislyak.
In other words, no matter how Trump's meeting with Lavrov goes, it is almost certain to be overshadowed by the domestic political problems currently engulfing his administration and its agenda.