From botanical gardens to body sprays: The surprisingly green world of fragrance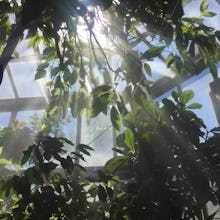 About an hour's drive outside Manhattan, right behind an unassuming mid-century concrete facade, blooms a room full of 500 orchid varieties, continually refreshing themselves in an automated rainforest drizzle. The orchid room is one of many in the greenhouse and botanical gardens on the International Fragrances & Flavors campus in Union Beach, New Jersey. 
IFF recently opened the doors of its greenhouse to Mic for a tour, walking us through the surprisingly sustainable way the company takes ingredients from stem to spray bottle.
IFF houses over 5,000 square feet of greenhouse where researchers have been capturing, analyzing and reproducing natural scents — without harming the living source materials — since 1985. The fragrances that originate in IFF's labs may end up in everything from your laundry detergent to your shaving cream, but they start in the soil.
Traditional perfuming involves extracting essential oils via mass farming of plants, but the minds at IFF create fragrance with the future in mind. IFF is committed to sustainability, to cultivating scents while preserving the plants they're sampling. 
Placing the source material in a glass bulb helps isolate the scent, which is then captured via methods like IFF's tiny Tenax™ vacuum. Once analysts have determined the best molecular "fingerprint" for a scent, it's reproduced in the lab, yielding a finished fragrance that's uncannily similar to its still-living parent in the greenhouse. 
When it comes to building a fragrance, having access to the right ingredients makes a world of difference. "No one knows that better than Ann Gottlieb, the expert nose behind perfumes from Marc Jacobs and Calvin Klein, and the creator of AXE's latest fragrance, YOU."
For Gottlieb, it all comes down to the right ingredients used in harmony. "[YOU] is this combination of freshness and warmth," Gottlieb told Mic in a phone interview. "Some of our most successful fragrances are built in the same way, though they smell completely different. If you take a recipe you love and insert different ingredients, you get a completely different product, even though you're using the same formula."  
IFF's labs provide perfumers like Gottlieb access to rare and uncommon ingredients they otherwise could only dream of. Their technicians can analyze and replicate any carbon-based scent, whether it's a stack of fresh hundreds or a steak on the grill. 
More options and access to better ingredients for perfumers means a better smelling you. Thanks to the green thumbs and white coats at IFF, you can be kind to everyone who smells you, while still being kind to the earth.