'NBA 2K' eLeague Details: 5 smart presentation elements the league must include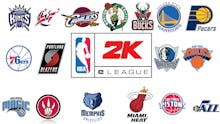 If you love the NBA and esports, chances are you're already excited for the NBA 2K eLeague, which is coming in 2018. However, the new league's success is still far from assured.
Take-Two Interactive and the NBA make a smart and powerful combination, so it appears the venture is getting off to a strong start. Once the games begin, there are five seemingly small, but important presentational elements that 2K must implement to ensure fan engagement.
NBA 2K eLeague details: In-depth player profiles
It's important for the community to know the players. At the end of the day, esports is star driven.
The top stars in games like Defense of the Ancients and StarCraft 2 are legends and icons in their field. 2K Sports and the NBA must deliver in-depth profiles and vignettes that introduce the players to fans.
NBA 2K eLeague details: Go inside the combine
Per 2K Sports, there will be a scouting combine for draft hopefuls.
We know what the scouting combines are all about in real-life basketball and football, but what does it look like in NBA 2K?
An inside the combine feature that serves as pre-release content, much like the Prelude for NBA 2K17. It would help fans understand what competitors will need to demonstrate during the evaluation process.
Also, fans would have an opportunity to compare their combine totals to the pros. When the NFL Draft travels from city to city, there's often a setup that allows fans to test their own 40-yard dash time.
This would be the same concept, only on a virtual platform.
NBA 2K eLeague details: Get real NBA players involved
The Boston Celtics' Isaiah Thomas is one of the best players in the NBA. He's also an avid NBA 2K gamer. 
The Celtics are one of the 17 teams that will be involved with NBA 2K eLeague. It makes perfect sense for the Celtics to run as many advertisement campaigns as possible with its esports team and Thomas. The same process should be repeated with every NBA team and their real-life star.
There may not be a better way to meld the two audiences together.
NBA 2K eLeague details: Official website with full stat tracking
Esports is as much a sport as NASCAR, and there's an official website with full stat tracking for that organization, so the NBA 2K eLeague should have one as well.
I should be able to look up the top scorers, rebounders, etc. in the league. This resource adds a level of legitimacy.
NBA 2K eLeague details: Signature sneakers in the game
Imagine a signature shoe created with the Create-A-Shoe feature that is assigned to a player in the NBA 2K eLeague. Now imagine that sneaker turning into a real sneaker.
It could happen. 
Nike ID already allows consumers to go online and design shoes with the purpose of having that sneaker produced and shipped out to the customer. If fans could associate a new design with a popular esports player, it could be profitable for everyone involved and it would establish even more relatability with the pros.
More sports gaming news and updates
Love sports games? Check out more content from Mic, including tips for leveling up your NBA 2K17 MyPlayer, playing quarterback in Madden 17, our review of MLB The Show 17 and the classic Nintendo sports games we want to see on the Switch.