Veteran reporter arrested while trying to ask Trump Cabinet member a question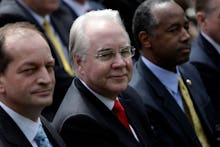 Dan Heyman, a West Virginia-based producer and reporter for Public News Service, has been a journalist for about 30 years. On Tuesday, he was arrested in the West Virginia State Capitol, reportedly for trying to ask visiting Health and Human Services Secretary Tom Price a question as the official walked through a hallway.
Price was visiting West Virginia along with White House adviser Kellyanne Conway, to hear about the state's plans to deal with an opioid addiction crisis. 
Heyman was following Price and Conway as they walked through the Capitol, trying to ask the official whether or not the Republican's new health care bill would allow domestic violence to be considered a pre-existing condition.
"This is my job, this is what I'm supposed to do," Heyman said, according to the Washington Post. "I think it's a question that deserves to be answered. I think it's my job to ask questions and I think it's my job to try to get answers."
But, while Heyman was trying to get answers out of Price, a Capitol officer stopped him, handcuffed him and arrested him — later charging him with "willful disruption of state government processes," the Post reported. He was released on a $5,000 bail.
According to a criminal complaint, Heyman "was causing a disturbance by yelling questions at Ms. Conway and Secretary Price," and security agents were "forced to remove him a couple of times from the area."
Heyman, who has been covering health policy for years, says that before he was arrested no one asked him to leave the area, and that he was wearing a press pass that clearly identified him as a reporter. He also told police he was a journalist, he said, according to the Post.
In a statement posted to Facebook, the American Civil Liberties Union of West Virginia called Heyman's arrest "a blatant attempt to chill an independent, free press," and said "the charges against him are outrageous, and they must be dropped immediately."
"By asking Tom Price and Kellyanne Conway whether domestic violence was considered a pre-existing condition under President Trump's health care proposal, Dan Heyman was doing his job as a reporter," the ACLU of West Virginia said. "Today was a dark day for democracy. But the rule of law will prevail. The First Amendment will prevail."
Correction: May 11, 2017