Who is Rod Rosenstein? The newly-appointed deputy AG played a big role in Comey firing.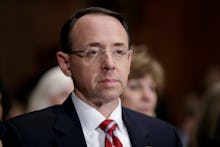 On Tuesday, Deputy Attorney General Rod Rosenstein, who was sworn in only weeks ago, became one of the public faces of the high-profile and abrupt firing of former FBI Director James Comey by President Donald Trump on Tuesday night. So who is Rosenstein and what is his role in Comey's controversial decision?
Before he was confirmed as deputy attorney general, 52-year-old Rosenstein served as a U.S. Attorney for the District of Maryland. Rosenstein, who's spent nearly 30 years as a public servant, is a graduate of Harvard Law School and the Wharton School of the University of Pennsylvania.
When he was chosen to serve as deputy attorney general, a position that puts him second-in-command to Attorney General Jeff Sessions at the Department of Justice, Rosenstein was widely seen as a bipartisan, apolitical choice for the job, who some believed would help temper Sessions, a Trump ally whose path to his current role was dogged by past allegations of racism. 
Writing about Rosenstein for the Washington Post in January, constitutional law professor Jonathan Adler called him "a fabulous choice for this position, and one that should be completely free of controversy" and said that "Rosenstein is admired and respected on both sides of the aisle."
And while his confirmation hearings were ongoing, Rosenstein reportedly told New York Senator Chuck Schumer that, if confirmed, he would appoint a special counsel to investigate ties between the Trump campaign and Russia if it were necessary — an answer that's all the more relevant considering Rosenstein's role in Comey's sudden firing.
Comey was fired from his role heading the FBI on Tuesday night, igniting a firestorm of accusations that the Trump administration could be trying to interfere with an ongoing investigation into whether or not Trump advisers worked with Russia to sway the 2016 election.
In justifying Comey's dismissal, the Trump White House pointed to a recommendation written by Rosenstein for Sessions that argues that, under Comey, the "FBI's reputation and credibility had "suffered substantial damage." 
In the memo, which was titled "Restoring public confidence in the FBI" and was made publicly available on Tuesday after Comey's firing, Rosenstein wrote, "I cannot defend the Director's handling of the conclusion of the investigation of Secretary Clinton's emails, and I do not understand his refusal to accept the nearly universal judgment that he was mistaken."
But the choice to hold up Rosenstein's memo as reasoning for Comey's firing has struck some as odd considering that Trump himself had praised Comey's handling of the investigation Clinton's use of a private email server — and many have argued that the real reason for Comey's firing could be connected to an FBI investigation into the Trump campaign's collusion with Russia.
Some have even argued that Rosenstein is "being used" by the Trump administration. Lawmakers and pundits alike are now waiting to see whether Rosenstein will appoint a special counsel to lead an investigation into potential connections between the Trump campaign and Russia.