Sorry, the Italian village of Bormida probably won't pay you $2K to move there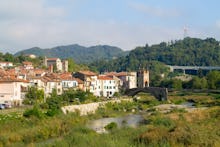 It was fun while it lasted. But, despite what you might have read on sites like Travel and Leisure, the Guardian and CNBC, it doesn't look like you can actually get paid €2,000, or about $2,170, to move to Italy: specifically the picturesque Italian village Bormida in the countryside province of Savona.
Bummer. The seductive story gained momentum in the international press in recent days, particularly after the Guardian piece published Sunday. To help fight a dwindling population, it was reported, the small, rural town of Bormida, Liguria — with a population shy of 400 — was offering cheap rent and a travel incentive of €2,000 for anyone willing to move there.
Unfortunately, according to a more recent Facebook post from the town's mayor and reported in European media: Non-Italians, at least, may have gotten a little ahead of themselves. 
The Facebook posts originally calling for submissions and reported in CNBC have now been deleted, and the town's website currently reads "The residence bonus for the moment is a project that we hope to achieve in 2018 with the help of the Liguria region."
In other words, maybe next year. In a new Facebook post also reported in European media, Bormida mayor Daniele Galliano said the town simply can't handle all the people who reached out, and seemed to imply the offer was originally meant for Italians. 
"My idea was to propose to the Liguria Region, with whom I am in contact and extended only at national level," the post reads. "The news was reported in the wrong way and has reached a worldwide audience."
Even if the mayor were open welcoming non-Italians, it's not hard to see why Galliano may have felt like he need to tamp down the enthusiasm. CNBC reported that the original Facebook post calling for submissions garnered about 2,000 comments from eager applicants.
Bormida, with its four restaurants and a doctor who travels in three times a week, is likely not well-equipped to handle a ton of prospective new residents. "The job crisis unfortunately is also here," reads the city's website. 
That hasn't deterred despondent aspiring Italians, many of whom seemed willing to move anyway. One commenter wrote: "Very sorry. My wife and I would have moved. And we don't need 2.000 euro... we need a good, quiet location. Wanderlust — and the desire for a change of scenery — is powerful.
Desperately wish you could live somewhere more exciting, or relaxing, and be able to afford it? Here's a guide to traveling and working — so you're not just surviving but thriving. And for ideas about where to go, check out this list of the most livable countries on earth from the United Nations.
Sign up for The Payoff — your weekly crash course on how to live your best financial life. Additionally, for all your burning money questions, check out Mic's credit, savings, career, investing and health care hubs for more information — that pays off.