Nintendo Switch Stock: The dock is coming to Amazon and it finally has cables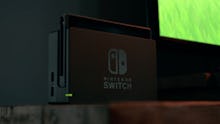 Tracking Nintendo Switch supply, for those who don't already have the system, hasn't been easy. If Amazon isn't selling out immediately, GameStop is trying to get you to spend more money on a bundle. 
And then there's the Nintendo Switch dock situation. A restock of the dock was clocked for May 19. The problem: it shipped with none of the necessary cables it needed to work. 
Thankfully, Nintendo has decided to fix the problem.
Nintendo Switch stock: The dock with proper cables will come to Amazon, Best Buy, GameStop and Walmart
According to Nintendo's official Switch website, the Switch Dock Set will be available on Amazon, Best Buy, GameStop, Walmart and Nintendo's store on May 19. Missing from the list are recurring Nintendo retailers like Target and Toys R Us. 
As mentioned, this dock ships with the AC adapter and HDMI cable required to play your Switch on the big screen. What about that original standalone dock? It can be found here and it's currently out of stock. If you're interested in buying an additional dock for your Nintendo Switch, you'll likely have to pay more than the $60 for just the standalone dock (previous Dock Sets have sprung for $89), but you'll get everything needed for the Switch to show up on your TV.
Nintendo Switch stock: This version of the dock will come to Europe, too
The Nintendo Switch Dock Set will hit Europe as well. In a recent tweet from Nintendo UK, the dock and included cables will hit European countries on June 23. For those that have been without a Switch since launch, it might be tempting to order from the EU once their stock comes in. 
Unfortunately, you can't just pick up a Switch dock from a foreign retailer and expect the AC adapter to work outside of that particular region. The plugs wouldn't be compatible without an additional adapter and, depending on the region, a voltage converter.
Nintendo Switch stock: Why is the standalone dock so bad?
There's a reason we keep stressing the importance of Nintendo shipping their dock with an AC adapter and HDMI cable. While shaving some dollars off the end cost of the gadget is appreciated, it's not immediately clear that the dock doesn't work without an AC adapter. The dock needs to be powered to charge the Switch. Not including the HDMI cable was common in the last generation among other consoles, but the Switch dock has literally one job and it can't do that job in its standalone form.
Nintendo's release of the Dock Set clearly seeks to correct this. When the dock and cables hit stores on May 19, Switch players will have everything required for a Switch setup in two places in their home. 
Check out more Nintendo Switch news and coverage
Looking for more Nintendo Switch news? Check out how blind gamers are using the Nintendo Switch and why you can't get your Mii to look quite like you. Nintendo's left Joy-Con issue turns out to be a hardware problem — here's how to solve it. Find out how to buy a console amidst the recent restock. Learn why the Switch cartridges taste so bad. Check out our comparison photos sizing up the Switch to the Wii U GamePad (part one and part two), or find out how to make use of ethernet without the dock and the best way to get alerts when new stock arrives.