James Comey firing: A running list of Republicans concerned over FBI director's dismissal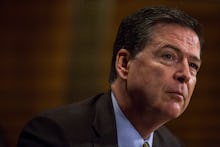 FBI Director James Comey's firing at the hands of President Donald Trump has led to a unanimous outcry from Democrats who say Trump's decision to fire the very man in charge of the investigation into the Trump campaign's ties to Russia raises red flags.
Additionally, a handful of politicians within Trump's own party have also decried the president's actions and cast suspicion about the timing of Comey's dismissal.
Many of the Republicans questioning Trump's decision are members of the Senate who will be tasked with voting to confirm or block the person Trump chooses to succeed Comey. If they feel Trump's eventual nominee won't be an impartial and fair overseer of the investigation into Trump's campaign, they can vote to block that nominee.
Those speaking out, however, do not include top GOP leadership. Senate Majority Leader Mitch McConnell issued a milquetoast statement, simply saying he'll oversee a "full, fair and timely confirmation process" for a Comey successor. House Speaker Paul Ryan, on the other hand, has stayed mum on the matter and Senate Majority Whip John Cornyn backed Trump, tweeting that Democrats, "were against Comey before they were for him."
Here's a running list of Republicans who have expressed concern over Comey's firing:
Sen. Richard Burr (R-N.C.)
Burr, the chair of the Senate Intelligence Committee, which is leading an investigation into the Trump campaign's possible Russian ties, said he's "troubled by the timing and reasoning of Director Comey's termination."
"His dismissal further confuses an already difficult investigation by the Committee," Burr tweeted.
Sen. Jeff Flake (R-Ariz.)
"I've spent the last several hours trying to find an acceptable rationale for the timing of Comey's firing," Flake tweeted Tuesday night. "I just can't do it."
Sen. Ben Sasse (R-Neb.)
In a statement, Sasse called the timing of Comey's firing "very troubling," adding that he reached out to Deputy Attorney General Rod Rosenstein "for clarity on his rationale."
Sen. John McCain (R-Ariz.)
McCain said in a statement he's "disappointed" in Trump's firing of Comey, and re-iterated his call for a "special congressional committee to investigate Russia's interference in the 2016 election."
Rep. Justin Amash (R-Mich.)
Amash tweeted Tuesday night that he was, "reviewing legislation to establish an independent commission on Russia."
Amash cited the "bizarre" second paragraph of Trump's letter announcing Comey's dismissal, in which Trump claims Comey told him three times he was not under FBI investigation.
Rep. Barbara Comstock (R-Va.)
Comstock, one of the most vulnerable House Republicans up for re-election in 2016, said in a statement that she "can't defend or explain tonight's actions or timing of the firing of FBI Director James Comey."
Comstock also called for an "independent investigation" of the Russian influence on the election "that the American people can trust."