'The Flash' Season 3, Episode 22 Preview: Why Captain Cold returns in "Infantino Street"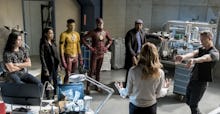 Only two episodes remain in The Flash's third season and Barry Allen and the rest of Team Flash are running out of time to figure out a way to defeat Savitar.
Tracy Brand completed construction of the Speed Force Bazooka (yea, it is an awesome name) in episode 21. The device will theoretically be able to trap Savitar in the Speed Force. The only problem is that the device requires an energy source more powerful than the sun to operate. Fortunately, it appears that the government (presumably ARGUS) has some alien technology that may do the trick. Of course, getting their hands on the power source will not be so easy for Team Flash, as it is being guarded by King Shark. 
In season three's penultimate episode, titled "Infantino Street," Barry Allen will turn to the only man capable of pulling off a heist of such epic proportions: Leonard Snart aka Captain Cold. And considering that Snart died in season one of Legends of Tomorrow, it seems likely that Barry will once again be traveling through time in an effort to defeat Savitar. 
For more on episode 22 of The Flash, check out the official synopsis, via Spoiler TV, below: 
With only 24 hours left until Savitar murders Iris, Barry struggles to save the woman he loves and makes the choice to use any means necessary to do so. Realizing he has one option left to save her, The Flash turns to Captain Cold for help.
Clearly we have more for you. Check out this promo for The Flash's penultimate episode. 
Mic has ongoing coverage of The Flash. Please follow our main The Flash hub here.