A lone female senator has been invited to a Senate meeting on health care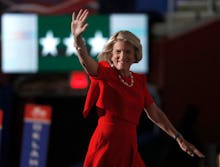 Senate Republicans have come under fire for their failure to include any women in the 13-person working group tasked with revising the American Health Care Act, an act that, if passed as is, would have disastrous consequences for women's access to health care. 
But despite a GOP aide's insistence that the party wouldn't get sucked into the "identity politics" of reckoning with the all-male committee — as well as Senate Majority Whip John Cornyn's (R-Texas) remark that rumors of including a woman for optics were "bogus" — Senate Republicans reportedly invited a female colleague to Tuesday's meeting on the bill. 
According to the Hill, Sen. Shelley Moore Capito (R-W.Va.) was invited to sit in on the meeting but isn't sure whether she'll be a permanent member of the committee. 
Either way, Capito told reporters she'd been looking forward to discussing Medicaid, an issue of particular concern to her state.
California Sen. Dianne Feinstein was among those who slammed the Senate committee, wondering aloud in a Sunday interview on Meet the Press how the 13 male legislators plan to "sit down and put something together" without their female colleagues.
"Women's health is a big part of this," she said, "and women are a majority of the population and their health interests deserve to be contemplated in any reform."
The day before, Feinstein's colleague Sen. Kamala Harris (D-Calif.) wrote on Twitter, "The GOP is crafting policy on an issue that directly impacts women without including a single woman in the process." 
She added, "It's wrong."