This is the richest person born in your birth year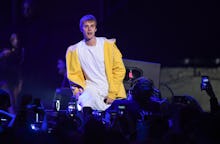 If you took the total net worth of the richest working-aged adults born every year from 1917 to 1996 and added them all together, you'd have about $1.4 trillion, or 2% of the world's gross domestic product. That's according to Money, which cross-referenced billionaire data from Forbes, Bloomberg, and Wealth X to build a list of the most affluent people by birth year.
To identify the pool of richest young adults, Mic restricted the list to individuals under age 40. Most were billionaires, and about half came into money via a family fortune. In the larger list, both technology founders and heirs who inherited wealth dominated, particularly for those born in the late 1950s or after. Earlier than that? Rich folks derived their fortunes from various industries, like textiles and real estate.
In general, building a fortune takes a while, and two of the birth years on the below list — 1992 and 1994 — didn't produce a billionaire at all. But in general, many of the names are recognizable, like Facebook cofounders Mark Zuckerberg and Eduardo Saverin.
Fun fact: The richest person under age 30 is a fairly new billionaire. That would be Hugh Grosvenor, who became Duke of Westminster in 2016. You can check out Money's full rankings here.
1977: Alejandro Santo Domingo
Net worth: $4.7 billion
Domingo is a Colombian-American billionaire who made his fortune by inheriting a stake in SABMiller.
1978: Garrett Camp
Net worth: $6.3 billion
Camp is a cofounder of Uber.
1979: Sean Parker
Net worth: $2.6 billion
The Napster founder went on to become an early investor and president of Facebook.
1980: Marie Besnier Beauvalot
Net worth: $4 billion
Beauvalot became a partial owner of Lactalis, a multinational dairy products corporation, via an inheritance.
1981: Yang Huiyan
Net worth: $9 billion
Yang inherited a real estate fortune.
1982: Eduardo Saverin
Net worth: $7.9 billion
Saverin is the cofounder of Facebook.
1983: Nate Blecharczyk
Net worth: $3.2 billion
Blecharczyk is the cofounder of Airbnb.
1984: Mark Zuckerberg
Net worth: $56 billion
Zuckerberg is the cofounder and CEO of Facebook. 
1985: Julio Mario Santo Domingo III
Net worth: $2.1 billion
New York City DJ Domingo also inherited a stake in SABMiller along with his uncle, Alejandro Santo Domingo.
1986: Lukas Walton
Net worth: $11.3 billion
Walton inherited wealth from his father, heir to the Walmart empire.
1987: Wang Han
Net worth: $1.3 billion
Wang owns a stake in China's Juneyao Airlines.
1988: Patrick Collison
Net worth: $1.1 billion
Collison is the Irish cofounder of Stripe, a payment processing company.
1989: Bobby Murphy
Net worth: $4 billion
Murphy is the cofounder of Snap, the company behind Snapchat.
1990: Evan Spiegel
Net worth: $4 billion
Spiegel is the founder and CEO of Snap.
1991: Hugh Grosvenor
Net worth: $12.9 billion 
Grosvenor — the richest person under 30, according to BBC — inherited his wealth as the Duke of Westminster.
1992: Frances Bean Cobain 
Net worth: $0.1 billion
The Kurt Cobain heiress was an "honorable mention" on the list, since no one born in 1992 has yet reached billionaire status.
1993: Gustav Magnar Witzoe
Net worth: $1.1 billion
Witzoe inherited nearly half of Salmar ASA, one of Norway's largest fishing firms.
1994: Justin Bieber
Net worth: $0.2 billion
Like Cobain in 1992, Bieber earns an honorable mention on the list, as the data Money reviewed lists no billionaires for 1994. 
1995: Katharina Andresen
Net worth: $1.2 billion
Andresen, who currently attends college in Amsterdam, inherited partial ownership of the investment company Ferd.
1996: Alexandra Andresen
Net worth: $1.2 billion
Andresen is Katharina Andresen's sister and also inherited a stake in the family business.
Sign up for The Payoff — your weekly crash course on how to live your best financial life. Additionally, for all your burning money questions, check out Mic's credit, savings, career, investing and health care hubs for more information — that pays off.
Correction: May 10, 2017