The new Snapchat update demands your location more than ever. Here's how to get around it.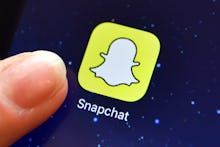 Snapchat's latest update brings with it new edit features and pictures that last forever. Unfortunately, it's also the most annoying Snapchat update yet, if you use the app with location tracking turned off. Previously, Snapchat only required your location if you used geofilters: animated borders that humblebragged where you currently were. Now Snapchat's holding all your filters for ransom. If you want to add some fade to your photo or beautify your selfie, you'll see this:
Who cares if Snapchat always knows where I am? I have nothing to hide.
Snapchat's use of your location shouldn't necessarily terrify you, but it goes beyond wanting to give you cute picture borders.
Snapchat specifies what information is shared with other users, business partners and the public. But Snapchat doesn't specify what, exactly, it shares with what's called third parties. Its privacy policy specifies these third parties include the government — Snapchat lists the numerous requests it receives here — companies they merge with and "service providers, sellers and partners." Snapchat's privacy policy does admit, however, that it uses your location for "ad targeting and measurement." 
In short, it's less about having something to hide and more about Snapchat sharing where you live, work and frequent with unnamed companies. If you're not cool with Snapchat sharing your whereabouts with these third parties and ad companies, here's how you can use the filters anyway.
Here's how to use filters in Snapchat without handing over your location.
Swiping right on a photo to enable filters will issue a menu prompt about all the wonders of enabling location data for Snapchat. When you reach this screen, hit "Allow," which will shoot you over to the iOS Settings app where you can grant Snapchat the ability to know where you are. To clarify: hitting the purple "Allow" button will not grant Snapchat location data just yet, that happens in Apple's Settings app. When you get to Settings, leave the "Location" option set to "Never," double tap your home button to reveal the app switcher and go right back to Snapchat.
You'll be able to swipe between color filters and even time and day-based filters. You still won't have access to location-based filters that showcase where you are at any given moment, but if you're dying to have them, those can be toggled by switching Snapchat's location data to "on." Fortunately, the setting is "While Using the App" as opposed to "Always," like some other companies require.
The main hangup is you'll have to use this method every time you want to filter a photo. But if you strive to live life like Carmen Sandiego — or just want basic privacy when perfecting your selfies — you'll add a home button double-tap to your Snapchat routine.