The best fried chicken in all 50 states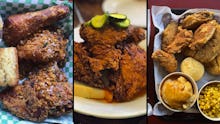 Fried chicken might just be the ultimate food of summer. To find the best deep-fried bird in the country, Mic asked Yelp to identify the best places to order fried chicken in every state. After analyzing businesses with a large concentration of reviews mentioning "fried chicken," Yelp then ranked those spots by crunching the data for the total volume and ratings of reviews mentioning "fried chicken." This list excludes national chains with locations in multiple states, so beloved chains like KFC and Bojangles' didn't make the list.
A cross-country road trip to taste America's best fried chicken dishes may sound ambitious, but it's undeniably tempting.
Saw's sweet tea brined fried chicken sandwich is smothered in white sauce and pickles. 
Choose all white meat, all dark meat or a mix of this splendid fried chicken (plus gizzards, if that's your thing) at Alaska's top fried chicken spot. 
Two fried chicken sandwiches, one drenched in honey and the other topped with cheese, make Welcome Diner the place to go for fried chicken aficionados. 
For a "light" meal here, go for the two pieces of pan-fried chicken, plus two sides. 
California: Howlin' Ray's in Los Angeles
Nashville-style hot chicken has landed in L.A.'s Chinatown. You can choose your level of heat (from Country to Howlin'), the pieces you want to eat and how you want it served. You can also get your super spicy chicken on a sandwich or waffle. 
You're here for the chicken biscuits, which come in a variety of flavors. A sampling: the "DBC Club" is topped with bacon and ranch while "The Franklin" is slathered in sausage gravy. 
Sandra Pittman's soul food spot, which doles out church plate-style fried chicken and sides, is a love letter to her mother, Mary.
Delaware: Blue Crab in Bethany Beach
You're here for the Fabulous Feasts, which also come with tons of fried seafood. 
This nautical-themed restaurant serves up two of life's greatest foods: ramen and fried chicken. Slurp and crunch your way through the menu next time you're in town.  
Chicken and waffles can be seen around the nation in various renditions, but The Marietta Local's signature French toast and fried chicken, served with apples, creates a whole new category of decadent brunch dishes.  
Balance this plate lunch of fried chicken, rice and potato salad with a bowl of poke. You're in Hawaii, after all! 
Idaho: Fork in Boise
Cast-iron-fried, buttermilk-brined chicken is served with a cheddar waffle, balsamic-infused maple syrup and honey-orange butter on Thursday nights at The Fork. 
Half a Cajun-fried chicken plus two daily sides goes for $12 at this casual Chicago spot. 
Indiana: Nada in Indianapolis
The standout menu item at this colorful Mexican restaurant: Mex'orean fried chicken.
Don't let the college town vibe fool you. This casual chicken dinner served with house-fermented hot sauce is the valedictorian when it comes to fried chicken in Iowa. 
A Kansas fried chicken staple since 1949, this plate of food has stood the test of time. 
Buttermilk fried chicken, mashed potatoes, country braised greens, buttermilk gravy and hot sauce make up this complete Louisville feast.  
There's no shortage of good fried chicken in NOLA, or Louisiana, for that matter, but some of the best is found at the 60-year-old Willie Mae's. You can load up on a three-piece chicken meal and sides like red beans, fried okra and more southern treats. 
Come for the freshly shucked oysters, stay for the fried chicken sandwich with maple Chinese mustard. Order a basket of fried pollock on the side while you're at it.
Maryland: Ekiben in Baltimore
Taiwanese curry-fried chicken thigh delivers crispy texture and is balanced by a soft bun. If that's not your style, order it on top of a rice bowl with pickles. 
Massachusetts: Sarma in Somerville
The chef's special at this Middle Eastern restaurant is the Turkish-style fried chicken, sprinkled with sesame seeds and green harissa and served with tahini on the side.
A platter of Nana's Fried Chicken, brined in buttermilk, or Nashville hot, is served with two sides for $18. 
Minnesota: Revival in Minneapolis
You'll need some sweet pickles to handle Revival's super spicy hot chicken. 
Work up your arm strength because you're going to be carrying a heavy plate away from this Southern fried chicken buffet. 
Missouri: Southern in St. Louis
Load up your hot chicken plate with mac and cheese casserole, mashed potatoes with pan gravy, creamed spinach and all sorts of southern sides to balance out the satisfying spice. 
If chicken and biscuits aren't your style, go for the powdered-sugar-coated chicken and waffles with pecan butter. 
Nebraska: Block 16 in Omaha
Whether you order your chicken hot or mild, the crisp shell of this juicy thigh meat is seriously addictive. 
Fried chicken skins are the house specialty here. A side of creamy mac and cheese is the most delicious way to complement the salty skins.
New Hampshire: Cotton in Manchester
Fried chicken is served up multiple ways at Cotton: Try the sweet and sour popcorn chicken followed by the buttermilk fried breast with all the fixings. 
Choose soy garlic, sweet and spicy or salt and pepper for your wings, drumsticks and tenders at this New Jersey Korean fried chicken destination. 
New Mexico: Nexus Brewery in Albuquerque
Is there any better pairing than craft beer and fried chicken? A fluffy waffle makes it a delightful, carbohydrate-fueled feast. 
You'll have to leave New York City to taste the best fried chicken in New York state. Head upstate to order by the piece or go for a dozen jumbo crispy chicken wings. 
North Carolina: HomeGrown in Asheville
Every morning in Asheville should start with an open-faced chicken biscuit slathered in gravy.
Surround your fried chicken by barbecue and you're doing America right. 
Authentic Nashville hot chicken makes its way to Ohio at this cozy chicken shop that lets you pick your piece of farm-raised, all-natural chicken and your heat level, all paired with slaw and mac. 
Oklahoma: The Drum Room in Oklahoma City 
Drumstick lovers will be in their element at this restaurant dedicated to tasty chicken legs.
Pick one, two or three pieces of buttermilk fried chicken to top your dramatically layered sweet potato waffle at Screendoor. 
A hot buttered roll with hot fried chicken and pickle brine slaw makes for a scrumptious bite. 
If you're vacationing in Newport, head to Winner Winner to indulge in a serious quantity of fried chicken.
Load up on fried chicken and all its accoutrements at this old school Southern buffet. It costs $10.76 (plus tax) for dinner. 
This no-frills chicken joint is all about fried chicken to share, with pieces sold up to 100 to a pack, which costs $141.
Leave it to Tennessee to have not just one, but two top fried chicken spots. Nashville did invent hot chicken, after all. Gus's is a multi-state mini chain, but the original in Memphis is a must-see. At Monell's Nashville restaurant, you'll find skillet fried chicken at breakfast, lunch and dinner, seven days a week. 
You may want to relocate to Roanoke for a daily dose of this stellar chicken served family-style. 
This Salt Lake City shwarma spot adds a Middle Eastern flair to your typical fried chicken. 
The chicken sandwich looks excellent, but the double cheeseburger with a piece of fried chicken on the bun is worth a try as well. 
Virginia: Mel's Cafe in Charlottesville 
Breeze past the all-day breakfast options at this diner and go straight for the chicken leg sandwich or fried chicken dinner.
Washington: Facing East in Bellevue
It's all about the five-spiced chicken at this Taiwanese spot. 
Washington D.C.: Rose's Luxury in Washington, D.C.
If you can get into the award-winning D.C. restaurant, plan to try both the pasta dishes and the pickle-brined fried chicken. 
West Virginia: Dirty Bird in Morgantown
Prepare to get dirty with five types of chicken sandwiches, fried chicken boxes and other crispy delights.
Fried chicken, fried barbecue chicken and spicy fried barbecue chicken are all on the menu at this Wisconsin gem. 
With brunch served until 3 p.m. every day, you have no excuse for missing out on this stellar chicken and waffles.