James Comey has been fired. What does that mean for our democracy?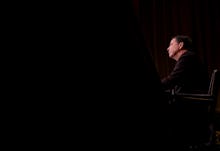 The dust is far from settled after what could be one of the most consequential decisions President Donald Trump has made during his young tenure in the Oval Office: firing the FBI director. Trump let Director James Comey go Tuesday evening, citing his improper handling the Hillary Clinton email investigation. Removing Comey not only cuts loose the FBI director that Clinton claims cost her the election, it also removes the closest thing America's justice system had to an impartial arbiter of investigations into the Trump campaign's connections to Russia.
The question now: Will anyone, including Congress, reach the bottom of the alleged connections between the president and Russia? Other questions answered, and even more posed, below in Navigating Trump's America.
This is Mic's daily read on Donald Trump's America. 
What I'm watching
Today: Trump fired the seventh director of the Federal Bureau of Investigation.
More: Comey had the job for three years and eight months; he was appointed to a ten-year term by Barack Obama in 2013.
Even more: The interim head of the FBI is Andrew McCabe, the agency's deputy director who broke protocol in January by speaking with White House Chief of Staff Reince Priebus about Russia investigations.
Yes, more: Many Democrats are predictably angry, but they're not alone. Several Republican senators expressed deep concern with Trump's decision.
Trump's agenda today: Meeting with Russia's minister of foreign affairs. (Trump has made no public appearances since last week.)
Why did Trump fire Comey?
The official reason was that Comey mishandled the investigation into Clinton's private email server. Rod Rosenstein, Trump's recently confirmed deputy attorney general, wrote to Trump saying Comey's failure to recognize that he had made mistakes made him unfit for the job. "The way the FBI director handled the conclusion of the email investigation was wrong," Rosenstein wrote. Rosenstein also wrote that Comey should not have publicly announced an end to the Clinton email investigation, nor should hehave written publicly in late October that the email investigation had been reopened.
That Comey could not be trusted to run the FBI is the official White House talking point. Trump's letter informing Comey he was fired, hand-delivered to the agency in a manila envelope, said Comey cannot "effectively lead the bureau." The White House and Justice department had been looking for reasons to fire Comey. That began at least last week, but Comey, the FBI and Justice officials had no advance warning of the firing. In fact, Comey was giving a speech in Los Angeles when the news broke — and initially thought it was a joke.
Trump's letter states: "I greatly appreciate you informing me, on three separate occasions, that I am not under investigation." That's where this gets interesting.
Comey admitted on March 20 the FBI was investigating the Trump campaign. CNN reported hours before Comey's firing was made public that the Justice department had issued subpoenas in the Michael Flynn case. NBC News reported Trump is hiring lawyers to defend him against allegations that he has business ties to Russia.
Democrats were quick to say Comey was the only fair arbiter of any investigation into the president and Russia. "If we don't get a special prosecutor, every American will rightly suspect that the decision to fire #Comey was part of a cover-up," Senate Minority Leader Chuck Schumer (D-N.Y.) tweeted. Others Democrats followed suit — and Trump responded with his own,tone-deaf tweets attacking them for supposed hypocrisy.
What's more surprising was the reaction from many Republicans. Some, like Texas Sen. John Cornyn, the number two Republican in the Senate, toed the party line. Cornyn said Democrats "were against Comey before they were for him." But the senator overseeing the Russia inquiry took a different view. In a tweetstorm, Sen. Richard Burr (R-N.C.) said Comey's firing "is a loss for the Bureau and the nation."
"His dismissal confuses an already difficult investigation by the committee," added Burr, chair of the Senate Intelligence Committee. Sen. Mark Warner (D-Va.), the ranking Democrat on that committee, concurred — and called for a special prosecutor to investigate the president and Russia. Republican Sens. Ben Sasse, Jeff Flake and John McCain were also critical on Tuesday night.
In the House, Rep. Justin Amash (R-Mich.) said he "is reviewing legislation" for a special inquiry into Trump and Russia. That's notable because Amash is a member of the House Freedom Caucus — the most conservative members of Congress who, to date, have not rocked the boat on the White House and Russia. (Amash's tweet had 56,500 likes and retweets by Wednesday morning.)
Notable: House Speaker Paul Ryan (R-Wisc.) hasn't commented on the firing and Senate Majority Leader Mitch McConnell (R-Ky.) released a bland statement looking forward to a new FBI director.
Will there be a special prosecutor?
That's what this all comes down to. Whoever Trump appoints to run the FBI in the long term, that person will always be clouded by the abrupt and questionable nature of Comey's dismissal. Democrats will accept nothing less than an independent inquiry, with no ties to Attorney General Jeff Sessions or other Trump appointees, into the president and Russia.
And the White House is pushing back aggressively against the need for a special inquiry. Politico reported Trump has become frustrated in recent weeks, yelling at TVs when news of Russia was broadcast. He wanted Comey gone so he could start anew. He may have only poked the bear.
Something you need to know: Warner, the Virginia Democrat, told CNN on Tuesday that his committee was planning a private meeting with Comey on Thursday. Comey's testimony often fueled fresh stories about Trump and Russia. At America's top domestic law enforcement agency, Comey was driving whatever inquiries are occurring into the president and Russia. He was feeding the Senate investigation information. Without Comey, will other inquiries be effective?
Didn't Sessions recuse himself? Another reason there are renewed calls for a special prosecutor: Attorney General Sessions. Despite saying he would recuse himself from any investigation related to the president, Sessions also recommended the dismissal of Comey — while the FBI director was investigating the president. If Sessions will flex his power to push for Comey's ouster, the argument goes, how can the Justice department conduct a fair inquiry?
Note for history: This is only the second time the director of the FBI has been fired. The first was in 1993, when President Bill Clinton ousted his FBI director over ethics concerns. President Richard Nixon did not fire his FBI director, though he did oust his attorney general and deputy attorney general as the Watergate inquiry closed in.
Pay attention: In a comparison many are making to Nixon, Trump has now fired his FBI director, acting attorney general and the U.S. attorney for the southern district of New York — all of whom were involved with investigations into the White House. The president's national security adviser was also fired in disgrace.
Do you trust a Trump appointee to fairly adjudicate an inquiry into the president? On that note... apparently former New York Mayor and Trump supporter Rudy Giuliani is in the running for FBI director.
Don't forget: The president is meeting the Russian foreign minister at 10:30 a.m. in the Oval Office. It is his only event listed publicly for Wednesday.
Correction May 10, 2017