Sean Spicer reportedly hid in the White House bushes after firing of James Comey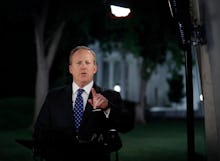 Someone get Melissa McCarthy on the phone. 
According to the Washington Post, White House press secretary Sean Spicer disappeared and hid behind a "tall hedge" after a brief interview with Fox Business on Tuesday night following the firing of FBI director James Comey — apparently in an effort to avoid a field of reporters hungry for answers. 
Spicer first divulged news of Comey's firing at around 5:40 p.m. by shouting it to nearby reporters outside his office, according to the Post. 
After Spicer spent a few minutes in the shadows, Janet Montesi, an executive assistant in the White House press office, told reporters at the scene that Spicer would answer questions, but not on camera. Spicer then came out from the bushes. 
"Just turn the lights off. Turn the lights off," Spicer reportedly said. "We'll take care of this. ... Can you just turn that light off?"
According to the Post, more than a dozen reporters then flocked around the press secretary, bathed in shadows between two tall hedges. 
Spicer answered a bevy of questions related to Comey's firing, then promptly shut down the Q&A after 10 minutes. 
"Anyway, thank you, guys," Spicer said. However, reporters followed Spicer as he sought refuge in the White House. According to the Post, Spicer walked, head down, into the White House as aides warned reporters to keep their distance.