Southwest Airlines flight erupts in violence as passengers exchange blows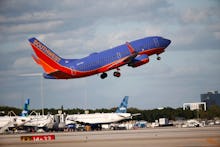 Rough skies continue to be the norm for airline passengers after a fistfight erupted on a Southwest Airlines flight headed to Oakland, California, on Sunday.
Video footage captured aboard the plane during a short scheduled layover in Burbank, California, shows two men exchanging blows in a row of seats, seemingly as passengers are attempting to disembark the flight.
"What is wrong with you?" a passenger can be heard asking as she rushes to break up the fight.
The incident is just the latest in a miserable series of viral incidents to take place on airplanes — a list which now includes bloodied passengers, cancelled flights and dead rabbits, according to reports.
Burbank police confirmed to CNN that one of the men involved, a 37-year-old from Lancaster, California, had been detained at the gate and later booked at the Burbank City Jail on misdemeanor battery charges. The other man, who suffered minor injuries as a result of the altercation, continued on to his destination, Southwest Airlines told the network in a statement.
In a statement obtained by CNN, Southwest Airlines thanked its employees for reacting appropriately and for preventing the altercation from escalating.
"Our employees are our everyday heroes and are trained to de-escalate conflict while delivering heartfelt hospitality on nearly 4,000 flights to nearly the half-million customers who fly Southwest every day," the statement said.