Nixon Presidential Library claps back at comparisons between Trump and Saturday massacre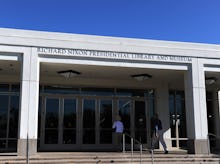 The best read is a fact. 
On Tuesday night, Donald Trump's firing of FBI director James Comey drew more than a few comparisons to former president Richard Nixon and his Saturday night massacre, in which Nixon fired Archibald Cox, the man leading the investigation into the Watergate scandal. 
However, those comparisons didn't sit well with the Nixon Presidential Library in Yorba Linda, California. 
"Fun fact: President Nixon never fired the Director of the FBI #FBIDirector #NotNixonian," the account wrote.
The tweet included a picture of Nixon looking downright jaunty. 
The only other president to actually fire the FBI director was Bill Clinton, who fired William Sessions over ethical concerns in 1993.
A few history buffs in the comments pointed out that the comparison between Trump and Nixon was because they both fired people in charge of leading an investigation against the sitting president. But, a fact is a fact. Nixon may have fired Archibald Cox, the special prosecutor on the Watergate scandal, but no, he never fired the director of the FBI. 
Nixon definitely has a reputation of being among the worst presidents, but his library is good at Twitter.