Attorney General Jeff Sessions to double down on prosecuting drug crimes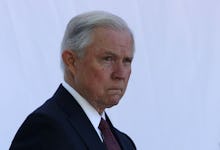 In the coming days, Attorney General Jeff Sessions is expected to announce plans to double down on harsh prosecutions for low-level drug offenders, U.S. officials with knowledge of the matter told the New York Times.
The directive, if given, would constitute a reversal of policy changes enacted during the Obama administration that instructed prosecutors to avoid handing down harsh mandatory minimum sentences for low-level drug crimes.
According to the Washington Post, Sessions — who became the nation's top law enforcement officer amid promises to take a "tough on crime" approach — has long foreshadowed a crackdown in federal charging policies.
"As the attorney general has consistently said, we are reviewing all Department of Justice policies to focus on keeping Americans safe and will be issuing further guidance and support to our prosecutors executing this priority — including an updated memorandum on charging for all criminal cases," Ian Prior, a spokesman for the Department of Justice, told the Post on Tuesday.
Among the changes Session is considering would be an instruction for prosecutors to hand down some of the harshest sentences against drug traffickers, regardless of whether they're low-level defendants, according to officials who spoke to the Post on condition of anonymity. For example, past punishments have included a "minimum mandatory sentence of five years for a first-time trafficking offense involving over five grams of crack."
According to Sessions himself, the logic is that a decline in prosecutions for drug crimes led to an increase in the U.S. murder rate.
"Many violent crimes are driven by drug trafficking and drug trafficking organizations," Sessions wrote in a March 8 memo, the Times reported. "We do have strong evidence that aggressive prosecutions of federal laws can be effective in combating crime. Our department's experience over decades shows these prosecutions can help save lives."
Such policy harkens back to the 1980s, when former President Ronald Reagan signed into law the Anti-Drug Abuse Act. The main purpose of that legislation was to create particularly harsh punishments for drug offenders, according to the Atlantic, but it wound up disproportionately impacting the black community. Further, data from American Civil Liberties Union shows that black males in the federal system face sentences nearly 20% longer than those handed down to white males convicted of similar crimes.
Former Attorney General Eric Holder worked during the Obama administration to avoid mandatory minimum sentencing for low-level drug offenses in an effort to ensure justice was being served in a consistent and fair manner.
"Certain types of cases result in too many Americans going to prison for far too long, and at times for no truly good public safety reason," Holder told the U.S. Sentencing Commission in 2014.