How to use Snapchat's magic eraser tool to make your snaps even more impressive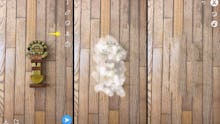 Snapchat rolled out a new update on Tuesday that came with an array of new features, including a new timer setting, the ability to draw with emojis and even a tool that lets you blur out things in your snap.
"Today we're making a pretty big change to the way you create and send snaps," said Snapchat in an announcement. "We're reorganizing the layout of our creative tools, adding a magic eraser (you'll find this under the scissor tool), and adding a new setting to the timer: infinity!"
The magic eraser tool is particularly interesting since it lets users seamlessly digitally edit things off of their snap pictures — this tool is not available for video snaps.
How to use the Snapchat magic eraser tool
To use, take a picture on your Snapchat. In the line of tools located on the top right corner, select the scissor icon.
This triggers three icons to pop up on the upper right corner: select the bottom one made up of assorted stars.
Then, use your finger to press over the area you want to delete. If it's small, one tap will suffice and if it's a larger area, then quickly using the swiping motion will work on the whole area. As long as your finger is touching the screen, a white stroke will follow showing the area covered.
Once you lift your finger, it takes a few seconds for the tool to work its magic.
It may not be perfect in one go, so keep pressing or swipe your finger across the area until you are satisfied with the results. And, of course, if your efforts using the magic eraser tool go awry, then you can always undo what you've done. Next to the highlighted scissor icon at the top, there is an undo arrow icon that can take you backwards.
You can also watch this promotional video from Snapchat to see how to use the magic eraser tool.