'Overwatch' Season 4 End Date and Season 5 Start: Everything we know so far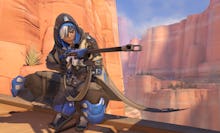 Blizzard has yet to announce a precise end date for season four of Overwatch's competitive season — but Overwatch director Jeff Kaplan just revealed a window of time within which it's expected to end.
Here's what we know so far about the end of season four and the start of season five of Overwatch  competitive play.
Overwatch season 4 end and season 5 start date windows announced
"Season four will come to a close towards the end of May," Kaplan wrote on the Overwatch forums. "The Competitive Play card will update with a timer later in the month with the exact time. Season five should start around the first of June."
Typically, the downtime between seasons is about a week, so if season five starts June 1, you should expect season four to conclude somewhere around May 25. 
When Blizzard announces specific dates for the end of season four and the start of season five, Mic will let you know.
More Overwatch news and updates
For more on Overwatch, check out the rest of what Mic has to offer. Here is an essay about how Efi Oladele was a missed opportunity for Overwatch, a deep dive into the issue of sexual harassment in Overwatch voice chat, an unintentionally hilarious infographic showing the most popular Overwatch characters in each state, a criticism of Blizzard's failures in its design of Symmetra and a dive into a cool trend on Tumblr that converts your most-played heroes into a psychedelic illustration.