'Assassin's Creed' Leaked Image: 'Origins' screenshot appears to show the new game in detail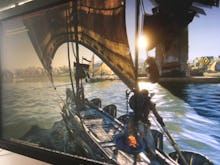 We're getting into that fun part of the year where, with about a month to go before E3 2017, real and fake information about yet-to-be-announced games floods Reddit and other parts of the internet. Of course, the best genre of leaks is the blurry cell phone image of a TV in lieu of a real screenshot of a game. The latest such leak offers a first look at the rumored Assassin's Creed: Origins, and it looks pretty real.
Assassin's Creed leaked image appears to show Origins gameplay
This image came courtesy of now-deleted Reddit user shoutouttoashraf. It's currently hosted on Imgur. As you can see, it's a dude riding a boat in what could reasonably pass as ancient Egypt. An objective indicator in the upper left says "Assassinate the Crocodile," followed by "Follow Shadya to Khenut's villa." Khenut, in case you were wondering, was an ancient Egyptian queen. 
All of that and more came from Eurogamer, which also corroborated the leak's veracity with their sources. It's real, folks. Everything in that image fits what we've previously heard about Assassin's Creed: Origins. It supposedly follows the original assassin's guild in ancient Egypt, with male and female protagonists. Origins is said to be less linear and more like a mix between Assassin's Creed and The Witcher III or Skyrim, complete with RPG elements.
Boats (and boat combat) return, as you can see in the image. Previous leaks indicated you'll be able to leave Egypt and at least visit Greece, if not other locations. None of this has been confirmed, but the leaks indicate it will be revealed at E3 2017 in early June. After that, it will be released this fall just like the previous Assassin's Creed games were. Stay tuned for more updates as they come in.
More gaming news, updates, tips and tricks
Check out the latest from Mic, including our deep dive into how female Overwatch players are dealing with online harassment, an article about a fan movement advocating for more same-sex romance options in Mass Effect, a personal essay about JonTron written by a fellow Iranian-American and an article looking at cultural diversity in Overwatch.