'Mass Effect: Andromeda' Patch Notes: New Update 1.06 to include outfit, skins for Nomad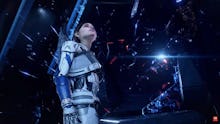 A new update, patch 1.06, just hit Mass Effect: Andromeda. The update includes some bug fixes and, if you have the deluxe or super deluxe editions, a new casual outfit for Ryder. 
Unfortunately, it appears there's currently a bug preventing deluxe edition owners from claiming the new cosmetic items if they already claimed the special delivery on the Tempest. Andromeda producer Michael Gamble said BioWare is "looking into it."
The full patch notes for update 1.06 are embedded below.
Mass Effect: Andromeda Update 1.06 Patch Notes: New casual outfit and Nomad skins for deluxe edition owners
The biggest part of patch 1.06 is a whole load of bug fixes. However, according to BioWare's blog post, "those of you who have the deluxe or super deluxe edition will also receive two custom Nomad skins, a new casual Pathfinder outfit and an exclusive multiplayer pack with a high chance of receiving an ultra-rare item."
The new casual outfit includes some sporty, mildly garish workout gear complete with a cheeky reference to "Blasto," a Hanar character who stars in some goofy action movies within the original Mass Effect trilogy.
Here's how it looks on Scott Ryder:
And here's how it looks on Sara:
Mass Effect: Andromeda Update 1.06 Patch Notes
Here are the full patch notes, courtesy of BioWare:
Single Player
Patch 1.06 represents just one of several updates BioWare has planned for the next few months. Future patch updates are expected to include improvements to male-male romance options for Scott Ryder as well as improvements to player interactions with trans character Hainly Abrams. We'll update you on those additional updates as more information becomes available.
More Mass Effect: Andromeda news and updates
For more on everyone's favorite space opera, check out the rest of what Mic has to offer. Here's an essay on the troubling history of colonialism in Mass Effect, a story about the horrifying harassment campaign carried out against a former BioWare employee, a look at the #MakeJaalBi fan movement and an overview of the historic lack of gay romance options in Mass Effect.