'Master of None' creators know there will always be "another f*cking Chef Jeff"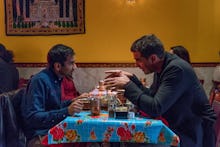 For the food-obsessed, binge-watching Netflix user, the second season of Master of None is a gift from the streaming gods. The new season starts with Dev (played by cocreator Aziz Ansari) in Modena, Italy, and from the onset, it delivers unrepentant food porn: savory pastries, smooth espresso and heaps of pasta. It might seem a bit deflating when, after a couple of episodes, Master of None shifts back to New York, taking the viewer away from picturesque Modena and Dev's pasta-making fellowship. 
(Editor's note: Detailed spoilers for Master of None season two ahead.)
But Dev's food-adjacent life continues in New York, with him playing host for Clash of the Cupcakes — a fictitious competitive cooking show that is very much a Cupcake Wars pastiche. Dev's work at not-the-Food Network leads him to meet Chef Jeff (played by Bobby Cannavale), a celebrity chef who immediately takes an almost aggressive liking to him. Immediately, it looks as though we could be witnessing the start of another great bromance: Could Chef Jeff be the Jean-Ralphio to Dev's Tom Haverford? 
For a time, it looks that way. But after some subtle clues that Chef Jeff might not be all he's worked up to be — which is a charismatic, globe-trotting food fanatic who everyone is infatuated with — we learn the all-too-familiar truth in the season two finale. Jeff uses his celebrity, and position of power, to sexually harass women at his workplace. 
Dev becomes privy to this when Lisa (played by Ilfenesh Hadera), a woman who does makeup on Clash of the Cupcakes (as well as on Chef Jeff and Dev's double-billed series Best Food Friends), leaves the set of BFF to work on another show for the network. Dev and Lisa are work buddies, so he's bummed to find out she's left and asks his coworker Benjamin about it. Benjamin admits he's heard that Chef Jeff is "a bit of a creep." That's quite the understatement, based on Lisa's experience. 
His actions, as described by Lisa, are predatory and genuinely frightening — cornering her, making lewd comments about her figure. It's the type of behavior that feels especially relevant when a television host like Bill O'Reilly is fired after decades of sexual harassment claims against him come to the fore, and when our current president is someone who infamously bragged that he can grab women by their genitalia. You can practically hear Chef Jeff say it, too. He's a star; they'll let him do anything. 
Thankfully, Chef Jeff's downfall is very public — and very satisfying. It happens when Dev and Jeff are promoting their new series on Raven Live, a fictional daytime show hosted by Raven-Symoné. The sexual harassment claims, from Lisa and several other women, hit the news during the taping of the show. Dev finds out right before the start of the interview and immediately begins backtracking just how close he and his "best food friend" are. Eventually, Raven's caught up to speed and uses the rest of her airtime to put Chef Jeff on blast. Chef Jeff's reputation is in ruins, though. And unfortunately, Dev becomes collateral damage, thanks to the title of their new show and a massive slip-up on Raven Live in which he mistakenly says he condones Jeff's actions instead of condemning them. 
Despite Master of None's Chef Jeff subplot coming off the heels of O'Reilly's fall from grace, the timing obviously wasn't intentional — the plot was conceived months beforehand. But as series cocreator Alan Yang notes, narratives examining and critiquing the way powerful men treat women will always be timely. 
"That was the saddest observation we made," Yang told Mic in a recent phone interview. "When we wrote it, the point was raised by one of the writers or somebody saying, 'Well, will this feel dated?' And you're like, 'Man, there will be Chef Jeff in the future.' It just keeps happening. When the O'Reilly stuff came out, I texted Aziz and I was like, 'Man, another fucking Chef Jeff!' It's just crazy, this guy's literally a TV host like Chef Jeff in the show." 
Indeed, it's very telling that this subplot, envisioned months ago, feels so of the moment. And yes, there will be more, real-life Chef Jeffs in the future. But hopefully they'll get their comeuppances, like Jeff and O'Reilly, instead of being rewarded with the highest office in the land. 
The second season of Master of None is currently streaming on Netflix. 
Mic has ongoing coverage of Master of None. Follow our main Master of None hub here.