These are the 10 Euorovision 2017 artists who made it past the first semifinals round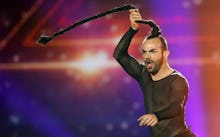 Tuesday night marked the first semifinal round of Eurovision 2017, which means that 10 lucky artists have made it through to represent their countries in the finals Saturday. The top acts feature no less than a fake wedding disco, an air saxophonist and a group of half-naked men splashing around in puddles — which is actually pretty tame for Eurovision. Let's go over the top competitors.
Robin Bengtsson, Sweden — "I Can't Go On"
This guy really knows how to make a girl feel special. An alumnus of Swedish Idol , Bengtsson wooed judges by crooning, "I can't go on when you look this fucking beautiful." Poetry.
Isaiah, Australia — "Don't Come Easy"
His full name, Isaiah Firebrace, makes him sound like a warrior in a young adult novel, but he actually gives off a very sensitive pop-soul vibe. He's also good at singing sleepily and wincing prettily. 
Blanche, Belgium — "City Lights"
With a face reminiscent of Glee's Heather Morris and a voice like Adele, Blanche got through to the finals despite her tendency to stare blankly while singing.  
Dihaj, Azerbaijan — "Skeletons"
Electro-pop singer Dihaj energized judges with her ballad "Skeletons," a dark, moody belter that is either about having skeletons in your closet or literal human skeletons.
Salvador Sobral, Portugal — "Amar Pelos Dois"
Pop Idol alumnus and messy-man-bun enthusiast Salvador Sobral nailed it with his smooth, jazzy ballad sung entirely in Portugese. He's charming in a naive way, and his silky voice is evocative.
Demy, Greece — "This Is Love"
Demy made it through with a fist-pumping EDM power ballad about love and acceptance and even more fist-pumping. 
Kasia Mo?, Poland — "Flashlight"
Poland's representative is serving major "Bond girl" vibes and a gothic vibrato. Her music video submission to Eurovision is entertaining in the sense that she's bare naked the entire time. 
Sunstroke Project, Moldova — "Hey Mamma"
Sunstroke Project won judges over with their noisy, upbeat party anthem "Hey Mamma" (Not to be confused with David Guetta's "Hey Mama"). They are also the band which features Sergey Stepanov — aka Epic Sax Guy, who became a viral meme after the group's performance in Eurovision 2010.
Hovig, Cyprus — "Gravity"
A former contestant on X Factor Cyprus, Hovig is a handsome, boring pop singer who nevertheless made it through to the finals with "Gravity," no doubt because he is handsome.
Artsvik, Armenia — "Fly With Me"
Russia may have been banned from the competition, but that didn't stop former The Voice Russia contestant Artsvik from weaseling in with the trippy, hypnotic dance track "Fly With Me." The video is pretty great, too. 
To watch the video for "Fly With Me," as well as videos for the other first-round finalists, check out the Eurovision YouTube channel. The final round, which takes place Saturday, May 13, will air on Logo and stream on the Eurovision website.
Mic has ongoing music coverage. Check out the latest news here.