Who is Andrew McCabe? Meet the man who, for now, will continue the Russia investigation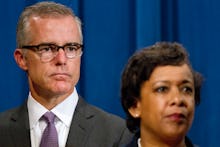 After President Donald Trump fired FBI director James Comey, deputy director Andrew McCabe became the acting director of the FBI.
McCabe is unlikely to stay in the role for long, unless the Trump administration chooses him to serve as the interim director until the confirmation of a new permanent FBI director.  
Given Trump's history with McCabe, there's a strong chance he'll be out of the role as acting FBI director by the end of this week.
McCabe is a career FBI official with a focus on combating extremism
McCabe has a long tenure at the FBI spanning both Democratic and Republican administrations. He joined the FBI in 1996 and was appointed to the deputy director position by Comey in 2016.
McCabe considered stopping terrorism inspired by groups like the Islamic State a top priority of his work. He told the LA Times,
That is the scariest thing for me right now [...] It's the broadening and intensity of the terrorism threat, the crowd-sourcing of terrorism, the flood of propaganda, the enormous number of folks who have become swept up in that propaganda.
Despite this overlap with Trump's anti-terrorism agenda, the Miami Herald reports that the Trump campaign attacked McCabe during the campaign in a post titled "Clinton ally aiding wife of top FBI official."
The page has been removed and redirects to a 404 error now. 
He has alleged Clinton connections
The U.S. Department of Justice's Office of the Inspector General is actually investigating "allegations that the FBI deputy director should have been recused from participating in certain investigative matters" in the Clinton email controversy.
The concerns around McCabe stem from contributions made to the failed state Senate campaign of his wife, Dr. Jill McCabe, from Clinton-allied donors, namely the Virginia Democratic Party and the political action committee of Virginia Gov. Terry McAuliffe. 
Trump attacked McCabe from the stump during his presidential campaign, saying,
His wife gets $675,000, essentially from Hillary Clinton. Folks, what's going on here? What's going on? Our country is rigged, it's crooked, and it's broken. I'm telling you, what's going on?
According to the FBI, McCabe was not involved in oversight of the Clinton investigation until the conclusion of his wife's campaign and he did not involve himself in fundraising for his wife.