Did Jeff Sessions violate a rule by participating in James Comey's firing?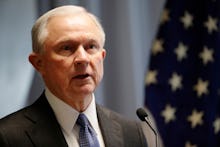 Sen. Al Franken (D-Minn.) slammed Attorney General Jeff Sessions for urging President Donald Trump to fire FBI Director James Comey on Tuesday, calling his participation a violation of his promise to recuse himself from the investigation into the Trump campaign's ties to Russia.
"I am also deeply troubled by the fact that [Sessions], who pledged to recuse himself from the Russia investigation because of his own Russia connections, involved himself in Director Comey's firing," Franken said in a statement. "This is a complete betrayal of his commitment to the public that he wouldn't be involved in the investigation."
Sessions — who apparently recommended Comey's termination in a letter to Trump — said in March that he would recuse himself from investigations into Trump's Russia ties after it was revealed he'd twice met with a Russian ambassador before Trump took office and denied the meetings during his attorney general confirmation hearing. 
That means he vowed not to have any role in the investigations. For Franken and others, that suggests he should have been precluded from participating in firing Comey, who had reportedly requested a "significant increase" in resources for the bureau's investigation into the election interference days before he was sacked.
Is Sessions' role in firing Comey a violation of DOJ rules?
Let's start with why Sessions recused himself from investigations.
According to 28 U.S. Code § 528 of Department of Justice regulations, the "willful" participation by any DOJ employee in investigations in which they have a "personal, financial or political conflict of interest, or the appearance thereof" may result in removal from office:
The Attorney General shall promulgate rules and regulations which require the disqualification of any officer or employee of the Department of Justice, including a United States attorney or a member of such attorney's staff, from participation in a particular investigation or prosecution if such participation may result in a personal, financial, or political conflict of interest, or the appearance thereof. Such rules and regulations may provide that a willful violation of any provision thereof shall result in removal from office.
The relevant Code of Federal Regulations defines a "political relationship" as a "close identification with an elected official, a candidate (whether or not successful) for elective, public office, a political party or a campaign organization, arising from service as a principal adviser thereto or a principal official thereof."
As Helen Klein Murillo, an editor of the Harvard Law Review, pointed out in the Lawfare blog, that definition perfectly describes Sessions' relationship to Trump. In other words, both his relationship to Trump and his potential personal stake in the Russia investigation would seem to constitute a conflict of interest. 
That's why Sessions recused himself — and that's why his participation in Comey's firing has raised eyebrows. 
The consequences of recusal violation
Could violating his recusal land Sessions in legal trouble? It doesn't appear so. 
As Murillo pointed out in March, the recusal does not appear to carry any "practical legal enforcement mechanism."
Sessions, as the head of the DOJ, would essentially be in charge of disciplining himself under the department's disciplinary policy, Murillo wrote. So even if Sessions' role in canning Comey constituted a violation of his recusal, it's pretty unlikely that he'd discipline himself for it. 
However, William F. Hall, an adjunct professor of political science at Washington University and Webster University and a former director of field office for the DOJ, told Mic that, while a recusal violation might not carry any legal consequences, it could carry "extremely negative" political consequences.
"These political consequences could also very well be, potentially, far more damaging and far ranging than any possible legal consequences," Hall said in an email interview. 
Trump has been accused of firing Comey in an attempt to kill the investigation into his campaign's ties to Russia. Though his official reason for firing Comey was the director's mishandling of the bureau's investigation into Hillary Clinton's private email server, Trump also thanked Comey in his letter for "informing me, on three separate occasions, that I am not under investigation" — even though he is, in fact, under investigation. 
In his statement, Franken said that Trump's reasoning for sacking Comey was "difficult to believe" and called for an independent investigator to examine Trump's ties to Russia.
"We cannot trust an investigation led by this administration," Franken wrote. "And it's now clearer than ever that we need an independent investigation into Trump's ties to Russia."
Sessions' office did not respond to a request from Mic to comment on Franken's assertion that he'd violated his recusal. 
But Sen. Ron Wyden (D-OR) tweeted on Wednesday that Sessions should resign for his role in firing Comey.