Miley Cyrus' "Malibu": Stream the new song about Liam Hemsworth now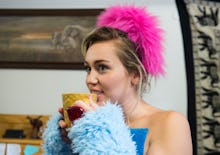 With a new sound and a new image, Miley Cyrus is back with her new song "Malibu."
In Cyrus' May cover story for Billboard magazine, the singer revealed that she's reinvented herself once again. Cyrus said her untitled new album is more singer-songwriter and "Malibu" proves that. The melody is a sweeping and sweet love song about her relationship with Liam Hemsworth. 
Stream the new single on iTunes, Spotify, and Amazon. Watch the music video for the first single from her new album below:
The couple reunited after a break as Cyrus said she needed to find herself, so she got clean and hasn't smoked weed in a few weeks. "I'm not doing drugs, I'm not drinking, I'm completely clean right now! That was just something that I wanted to do," she said. 
On the song, Cyrus sings the line, "I never would've believed you if three years ago you told me I'd be here writing this song," possibly giving fans a look at their on-and-off relationship or her latest musical evolution.
Her father, Billy Ray Cyrus, said this is the most real she's ever been. "This is Miley leaning into her roots more than I've ever heard," Billy Ray said. "For her, this is honest," he continued. 
Cyrus received some backlash for saying she's distanced herself from hip-hop. While she's a fan of the new Kendrick Lamar single "Humble," the other stuff has turned her off from the genre. 
Mic has ongoing music coverage. Please follow our main hub here.