'Zelda: Breath of the Wild 2' Spoilers: Producer Eiji Aonuma speaks up about next 'Zelda'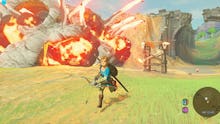 Completing The Legend of Zelda: Breath of the Wild is no small task. BotW is the biggest, most open Zelda game yet and the series producer Eiji Aonuma and crew spent years crafting the game. So long, in fact, that the Wii U spent most of its lifetime without a new Zelda game. The title is so intricate that players may start to wonder if the team can even top this for the next Zelda game. According to Aonuma, they most certainly can.
In an interview with Japanese Nintendo, Aonuma speaks briefly about working on this Zelda title and how things will be going forward.
Zelda: Breath of the Wild 2 spoilers: Expect "surprises"
Aonuma discussed what it was like taking the traditional Zelda formula and adapting it to an open world-style game. He also touched on what's to come. 
Regarding the future, the Zelda producer claims that, "in the future I'd like to repeat doing 'great fusses' and provide 'surprises' that exceed everyone's expectations," Japanese Nintendo reported. The site noted the uses of "fusses" (translated from ??????) may have been slightly lost in translation.
There isn't much to dissect here. Much of what Aonuma has to say about Breath of the Wild can be found in the making of video series, while new details are vague. Aonuma's "surprises" could apply to the game after Zelda: Breath of the Wild or even just the incoming DLC we'll see this summer and holiday season. With the DLC plan laid out, however, there's more room for Aonuma's "surprises" in a game that hasn't been announced yet. Let's hope E3 2017 brings us some news.
Check out more Zelda: Breath of the Wild news and coverage
Looking for more Nintendo Switch news? Check out how blind gamers are using the Nintendo Switch and why you can't get your Mii to look quite like you. Nintendo's left Joy-Con issue turns out to be a hardware problem — here's how to solve it. Find out how to buy a console amidst the recent restock. Learn why the Switch cartridges taste so bad. Check out our comparison photos sizing up the Switch to the Wii U GamePad (part one and part two), or find out how to make use of ethernet without the dock and the best way to get alerts when new stock arrives.