Toms created the blueprint for making philanthropy fashionable. And they're not done yet.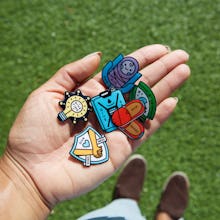 A decade ago, a slip-on shoe started a fashion revolution.
Blake Mycoskie, the brains behind the wildly successful Toms brand, known for its comfortable, chic espadrille shoes, disrupted both fashion and philanthropy with his simple "one for one" idea.
Mycoskie, who travelled around Argentina in 2006, initially wanted to provide footwear for 250 children there. Toms has donated now more than 70 million shoes to children in over 70 countries.
This year, the company marks eleven years since inception in 2006, when Mycoskie persuaded us to ditch our ballet slippers and straw wedges for the understated utilitarian Toms design, and spearheaded a trend for conscious consumption.
"It is our responsibility to make a positive impact on our community and we can use our platform to help make the world a better place," Mycoskie said in an interview.
In the era of Paris Hilton, flip phones and throw-away fashion, something about Toms resonated with millennials; unsurprising, given that half of us believe we can change the world, while one in three seeks out brands with positive impact, according to consultancy firm Seurat Group.
And the fashion for looking good while doing good has proved to be a lifestyle choice more than a simple passing trend. On May 10 2016, more than 27,000 children received free shoes via TOMS.
And Friday will be even bigger, with the company calling on fans to celebrate the many other ways Toms gives back through sales of shoes, sunglasses, bags and watch straps, including initiatives around sight, clean water, anti-bullying, solar power and safer birth, by wearing pins and clothing in colors linked to the various "gives". 
"We're asking our tribe to stand with us and choose one of the Toms gives that is most meaningful to them and share with their family and friends what it is they stand for," Mycoskie explained.
The company uses Mycoskie's "one for one" mantra to guide its expansion into these new "gives." Decisions are both well-researched and intensely personal: A line of tote bags that supports mothers in remote areas with high infant mortality rates was brought to life when Blake and wife Heather were expecting their first child.
"We are trying to do everything we can to make an impact, to choose gives that resonate with our customer and work with the best possible partners," Amy Smith, chief giving officer at the Los Angeles-based firm, told Mic in an interview.
This approach to business — the magic triangle laid out by Smith that joins human need, consumer preferences and charitable partners — clearly works for Toms. But the success of the company, alongside other ethical fashion firms like Warby Parker and sneaker brand Veja, confounds the received wisdom that when it comes to business, greed is good.
The Wall Street Journal spelled out in 2010 that "doing what's best for society means sacrificing profits." Not so at Toms, where giving shoes away for free has built a business worth hundreds of millions of dollars.
"We feel proud that we're hopefully being a small part of changing business and leaning into the conscious consumer," said Smith.
There are signs that there is a real consumer shift to ethical spending: Consumers across the board are willing to pay more for brands that are committed to "social value", according to Nielsen, while in 2015 ethical purchases across all sectors in the UK were worth £49 billion, roughly double the country's tobacco market.
But perhaps the greatest indication that Toms is future-proof was Bain Capital's decision to snap up half of the company in 2014, a transaction that valued the footwear start-up at $625 million.
Indeed, if imitation is the sincerest form of flattery, then Toms should be blushing. Its disruptive "one for one" model has been widely copied.
"The 'one for one' concept has been adapted, whether it be a fashion line or a particular product, from socks to hospital scrubs to wine to silk," Smith told Mic. 
Some fashion brands have also opted for other ethical business practices focused on transparent supply chains (see Everlane, founded in 2010) and creating employment in communities (Nisolo, for example, produces most of its leather shoes in Trujillo, Peru, where it makes sure workers are paid fairly and receive health care), areas in which Toms also shines.
"Consumers are more socially conscious and are looking for products that do this," Smith explained.
And Toms only expects its social giving to grow as it enters its second decade. The company plans not only to follow its "one for one" giving model, but also to expand other initiatives, such as its social entrepreneurship fund. That particular program has already invested in a number of "purpose-driven" companies, including Artlifting, an online marketplace for homeless and disabled artists. 
"We are always pushing ourselves to evolve so we can continue to improve lives. Looking forward, it is my goal to have Toms continue to inspire others to have giving at the core of all business activity," said Mycoskie.
And the fashion won't stand still either. Toms has already expanded and elevated its original range to include sandals, sneakers and wedges, as well as accessories like bags and sunglasses. The company's latest innovations include the "deconstructed alpargata", launched earlier in 2017, and a selection of Apple watchbands that went on sale in 2016. 
Looks like those simple shoes have got a long path ahead of them.